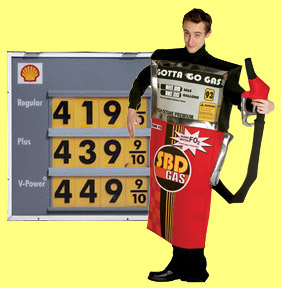 $4+ Gasoline will hurt Halloween 2014
Make no mistake about it, the price of gasoline today will affect how you celebrate Halloween this coming October. For the last few years the overly high prices at the pump, anywhere from three to four dollars per gallon, are hurting families more and more by taking a lot of money out of their pockets.
Its important to understand that its much more than the cost of just filling your car up with gas. Diesel fuel, which used to cost substantially less than regular gasoline is at an all time high and actually costs more than unleaded.
Just about every mode of transportation that delivers consumer goods is moved by diesel powered vehicles including semi-trucks, delivery trucks, trains and cargo ships. As a result, virtually everything you buy from food to dry goods has and will continue to go up in price and this includes Halloween products.
Even pumpkins are not immune! It takes fuel to run the tractors that plow the fields, to power the water pumps for irrigation and the trucks that deliver them to your local stores and vendors. There are two things that we all can do. First, start planning and saving for Halloween now! Tuck away every spare dollar you can through out the year for candy, costumes and decorations.
Second, with the current opposition to off shore drilling and expanded drilling on federal land, the US will be forced to purchase oil from other countries at ever increasing prices. Vote out politicians who enact policies that continue to raise the price of fuel and who want to increase taxes on gasoline to consumers. We all know who they are...