MAIN CONTENTS

Featured Articles
The latest Halloween articles from the staff of Halloween Online.
Halloween Costumes
Halloween Costumes, Halloween Masks and Makeup ideas.
Halloween Decorations
Halloween decorations you can make or buy for the spookiest night.
Halloween Recipes
Our cookbook filled with Halloween recipes, tasty tricks and treats.
Halloween Games
Spooky Halloween games adaptable for both kid's and adults.
Halloween Party
Halloween Party planning and ideas for your festivities.
Halloween Safety
Safety information, tips and suggestions for a safe Halloween.
101 Halloween Tips
That's right, 101 great Halloween tips, ideas and suggestions!
Halloween Props
Spooky Special Effects and Props for your Halloween haunt.
Pumpkin Carving
Pumpkin carving tips for carving your Halloween Jack O' Lanterns.
Movies & Music
Suggestions for the best Halloween music and Halloween movies.
Halloween Crafts
Halloween craft ideas and instructions for lots of Halloween fun.
High-Tech Halloween
Ghostly gadgets for your computer, cell-phone, Palm Pilot and more!
Halloween Moves To Las Vegas!
"THE BIGGEST HALLOWEEN, COSTUME & PARTY SHOW IS MOVING TO LAS VEGAS!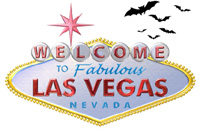 To meet the exciting growth in Halloween and Party sales, we're moving to the nation's biggest and best trade show destination, Las Vegas. Don't miss the excitement! Join us and let's get this party started. Held in conjunction with TransWorld's 13th National Haunt & Attractions Show!
(Northfield, IL) – After 23 years of success in Chicago, the decision has been made to move TransWorld's International Halloween Costume & Party Show (HCPShow) and National Haunt & Attractions Show – the largest industry shows – to Las Vegas at the Sands Expo & Convention Center, March 16-19, 2008, with new show hours from 9:30 a.m. to 5:30 p.m.
"We decided to change our location to the nation's number one convention destination based on year-to-year growth of the shows and committed interest among our exhibitors and attending buyers," said Joe Thaler, chief executive officer of TransWorld Exhibits, Inc., owners of both shows. "These loyal buyers view this move favorably as it provides them an opportunity to see new and returning exhibitors, the latest trends, business-building seminars, industry award programs and networking opportunities in this larger setting. The move will also provide us greater access to the West coast market."
Key highlights of the 24th International HCPShow and the 13th National Haunt & Attractions Show include:
• New product introductions from 650 of the industry's leading companies
• Highly-recognized Fantasy Fashion Show
• Lingerie/Sexy Costume Fashion Show
• Free demonstrations and seminars
• Networking events and awards presentations
According to Thaler, "Halloween is the fastest growing holiday and represents more than $7 billion a year in sales, and HCPShow is the largest-ordering writing show in the world for this industry. In response, TransWorld Exhibits is taking these shows to the next level to meet market demands."
For more than 50 years, TransWorld Exhibits has been a leading producer of independent trade shows. The business, which had its roots in the housewares and consumer electronics industry, has over the years expanded its offerings to include general merchandise, Halloween merchandise, giftware, seasonal items, jewelry, fashion and accessories. The firm runs trade shows located in Chicago, Las Vegas, and the United Kingdom.