MAIN CONTENTS

Featured Articles
The latest Halloween articles from the staff of Halloween Online.
Halloween Costumes
Halloween Costumes, Halloween Masks and Makeup ideas.
Halloween Decorations
Halloween decorations you can make or buy for the spookiest night.
Halloween Recipes
Our cookbook filled with Halloween recipes, tasty tricks and treats.
Halloween Games
13 great Halloween games adaptable for both kid's and adults.
Halloween Party
Halloween Party planning and ideas for your festivities.
Halloween Safety
Safety information, tips and suggestions for a safe Halloween.
101 Halloween Tips
That's right, 101 great Halloween tips, ideas and suggestions!
Halloween Props
Spooky Special Effects and Props for your Halloween haunt.
Pumpkin Carving
Pumpkin carving tips for carving your Halloween Jack O' Lanterns.
Movies & Music
Suggestions for the best Halloween music and Halloween movies.
Halloween Crafts
Halloween craft ideas and instructions for lots of Halloween fun.
High-Tech Halloween
Ghostly gadgets for your computer, cell-phone, Palm Pilot and more!
About Us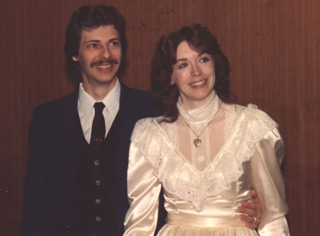 Needless to say, Halloween has always been our favorite holiday. My wife is my Morticia to my Gomez personality. In fact, it should come as no surprise that my wife and I were married on October 31st. 1984.
At the time, we managed a video rental store and were so short staffed that we unable to take any time off for our wedding.
Immediately after the wedding ceremony, we went straight home, where my wife changed out of her gown and I out of my suit, and then into our zombie costumes and makeup.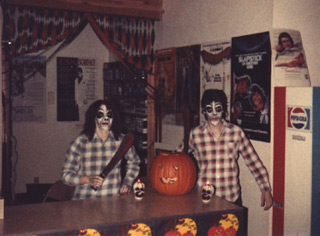 Ten years later my wife and I decided to create a web based magazine that would be a central resource of Halloween related articles, information and suggestions, that was as professional in appearance as it would be informative and entertaining.
And so, in October of 1994 Halloween Online aka the Halloween Online Magazine, slithered it's way onto the Information Super Highway with the mission of providing high quality information to everyone with an interest in this wonderful holiday.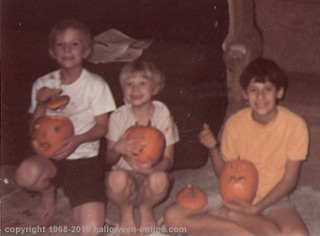 At its core, the Halloween Online is a how-to guide for helping people get the most out of their Halloween celebration and festivities. It offers a broad spectrum of content, providing information for everyone no matter what their level of interest in Halloween.
Whether you want simple idea's, suggestions and direction for haunting your home during the Halloween season, or are what we call a "Halloween pro-consumer" that takes Halloween very seriously, we'll help make your Halloween experience as frightful as possible.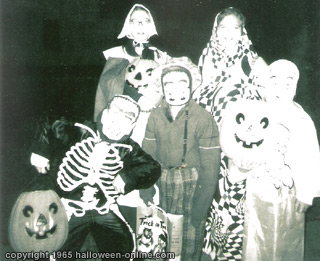 Today, Halloween Online is now the Internet's leader and single largest resource for quality Halloween information and instruction, both in content and its readership. We are continually expanding and developing new content to insure that Halloween Online continues to keep Halloween enthusiasts informed and entertained.
While we write the vast majority of articles in-house, we also receive information from a variety of other sources including our readers, original authors, and Internet Resources. Articles not written by the Halloween Online staff are always given full credit when the original author is known.
Fun and Frights on the Web
Whether getting ready to slap on a ghoulish grin or a bright red nose, monsters and clowns alike should head to the Net for some scary laughs and fun. We've put together a few devilish delights to help you get into the spooky spirit.
For pretty much everything else you could possibly want, surf over to Halloween-Online.com, a site that bills itself as the "Internet's largest Halloween resource." The site lives up to the lofty claim handily, offering articles on subjects like pumpkin carving, how to create a haunted yard, a safety guide and more, all with illustrative pictures and purchase links.
Our favorite feature on the site is the "Fearful Films" section, which can also be reached at FearfulFilms.com, a database of scary films organized by topic — vampires, witches, ghosts, zombies and the like — with short reviews and a skull rating system! Perfect for selecting a film for a fright-filled night! — Tanya L. Edwards * TV Guide Magazine