MAIN CONTENTS

Featured Articles
The latest Halloween articles from the staff of Halloween Online.
Halloween Costumes
Halloween Costumes, Halloween Masks and Makeup ideas.
Halloween Decorations
Halloween decorations you can make or buy for the spookiest night.
Halloween Recipes
Our cookbook filled with Halloween recipes, tasty tricks and treats.
Halloween Games
Spooky Halloween games adaptable for both kid's and adults.
Halloween Party
Halloween Party planning and ideas for your festivities.
Halloween Safety
Safety information, tips and suggestions for a safe Halloween.
101 Halloween Tips
That's right, 101 great Halloween tips, ideas and suggestions!
Halloween Props
Spooky Special Effects and Props for your Halloween haunt.
Pumpkin Carving
Pumpkin carving tips for carving your Halloween Jack O' Lanterns.
Movies & Music
Suggestions for the best Halloween music and Halloween movies.
Halloween Crafts
Halloween craft ideas and instructions for lots of Halloween fun.
High-Tech Halloween
Ghostly gadgets for your computer, cell-phone, Palm Pilot and more!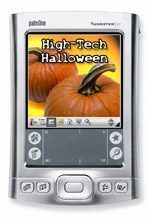 You can't go anywhere today without seeing someone with a cell phone stuck to their ear! Everybody has one and it doesn't stop there. Lap tops, P.C.s, PDA's, I-Pods, Blackberries. I know that I can't live without my trusty Palm Pilot anymore, or my cell phone for that matter. We live in a high tech world now.
So, shouldn't you keep in the Halloween spirit and decorate them as well? Backgrounds, screensavers and ring tones for your cell phone, home computer and lap top, wallpaper for Palm Pilots, the list goes on! Take Halloween with you even when you aren't at home. You can dress them up for Halloween or leave them spooky year round!
Haunt Your Computer for Halloween
Wallpaper, fonts, screen savers and other decor ideas for computers, laptops and tablets.
Scare Up Some Cell-Phone Fun
Wallpaper, screen savers and ring tones to keep Halloween close a hand.
Halloween Blogs
Halloween blogs are a great way for people to talk about their Halloween experiences and provide information to other people who love Halloween.
How To Add Halloween Wallpaper
Step-by-step instructions for changing the wallpaper on your computer.
Halloween Newsletters
Sending out a Halloween newsletter will be a treat for everyone you know.
Halloween Newsgroups
Share information, ideas, tips and even files such as pictures, video and music using this not well know area of the Internet.
Halloween Dressing for PDA'S
Decorating your hand held PDA (Personal Digital Assistant) for Halloween!

Left 4 Dead is perhaps my all time favorite pc game. If you just want to fight hordes of zombies, this is definitely the way to do it! Left 4 Dead is a co-op multiplayer or play-alone first person shooter that tells the story of four survivors in a post-apocalyptic world in the grips of a pandemic that has transformed the infected into zombies. This game is loads of fun, particularly during the Halloween season.