MAIN CONTENTS

Featured Articles
The latest Halloween articles from the staff of Halloween Online.
Halloween Costumes
Halloween Costumes, Halloween Masks and Makeup ideas.
Halloween Decorations
Halloween decorations you can make or buy for the spookiest night.
Halloween Recipes
Our cookbook filled with Halloween recipes, tasty tricks and treats.
Halloween Games
Spooky Halloween games adaptable for both kid's and adults.
Halloween Party
Halloween Party planning and ideas for your festivities.
Halloween Safety
Safety information, tips and suggestions for a safe Halloween.
101 Halloween Tips
That's right, 101 great Halloween tips, ideas and suggestions!
Halloween Props
Spooky Special Effects and Props for your Halloween haunt.
Pumpkin Carving
Pumpkin carving tips for carving your Halloween Jack O' Lanterns.
Movies & Music
Suggestions for the best Halloween music and Halloween movies.
Halloween Crafts
Halloween craft ideas and instructions for lots of Halloween fun.
High-Tech Halloween
Ghostly gadgets for your computer, cell-phone, Palm Pilot and more!
| | | |
| --- | --- | --- |
| --- | SCARE UP SOME CELL PHONE FUN | --- |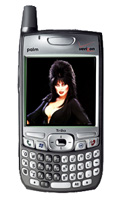 Cell phones need some Halloween happiness, too! The newer ones allow you to download graphics, ring tones and screen savers which you can usually find on a Halloween theme during this time of year.
The newest line of cell phones coming out also contain a built in PDA and MP3 player so you can also listen to your favorite Halloween tunes as well. See our section on PDA's for ideas on dressing it up!
Most cell phone companies offer downloads of ring tones, wallpaper, screensavers and MP3's, for a minimal fee, directly to your cell phone.
It's just one more little thing that you can do to take the Halloween spirit with you where ever you may roam. And remember, it doesn't just have to be during the Halloween season. Some of us love to keep that feeling going all hear long!
Spooky Video
With the advent of larger cellphone screens and the ability to storage large amounts of data to a auxillary storage device, such as a Micro SD card, you can now store and watch full length movies and television shows on your cellphone.
This year I bought a 32gig Micro SD card and loaded it full of my favorite spooky shows including the original movie "Halloween", all sixty-five episodes of "The New Addams Family", "FreakyLinks", "The Night Stalker movies and tv series", "Elvira - Mistress of the Dark" and more.