MAIN CONTENTS

Featured Articles
The latest Halloween articles from the staff of Halloween Online.
Halloween Costumes
Halloween Costumes, Halloween Masks and Makeup ideas.
Halloween Decorations
Halloween decorations you can make or buy for the spookiest night.
Halloween Recipes
Our cookbook filled with Halloween recipes, tasty tricks and treats.
Halloween Games
Spooky Halloween games adaptable for both kid's and adults.
Halloween Party
Halloween Party planning and ideas for your festivities.
Halloween Safety
Safety information, tips and suggestions for a safe Halloween.
101 Halloween Tips
That's right, 101 great Halloween tips, ideas and suggestions!
Halloween Props
Spooky Special Effects and Props for your Halloween haunt.
Pumpkin Carving
Pumpkin carving tips for carving your Halloween Jack O' Lanterns.
Movies & Music
Suggestions for the best Halloween music and Halloween movies.
Halloween Crafts
Halloween craft ideas and instructions for lots of Halloween fun.
High-Tech Halloween
Ghostly gadgets for your computer, cell-phone, Palm Pilot and more!
| | | |
| --- | --- | --- |
| --- | DRESSING YOUR PDA FOR HALLOWEEN | --- |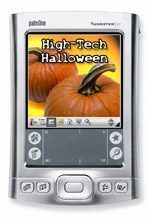 It seems like everyone has a PDA (Personal Digital Assistant) now days. They take the clutter out of purses or back pockets, you can have your address book, calendar, tasks, appointments, documents, MP3's and games all in one little package. Some models include cell phones to lighten your load even more!
So why not dress it up for Halloween? Most of them let you set a wallpaper background just like with a home computer or laptop. Just find a few that you like, size them down small and load them on to your PDA.
Some PDA's also use screensavers and you can find Halloween themed to work here as well. Just do a search for PDA screen savers and see if yours will allow them. If so, there are plenty of places to find them on line.
You can also load all your favorite Halloween themed pictures on board and set it to slide-show mode. You can sit and enjoy a slide show presentation of your favorite pictures where ever you go!
Most types can also play MP3 files so you could load on your favorite Halloween music to take with you where ever you go. Listen through the built in speaker or put on a set of headphones and enjoy the music!
Possibilities are endless with the newer PDA's, and it just gives you one more way to enjoy the Halloween season by taking it with you everywhere you go to enjoy any day at any time. Isn't technology wonderful?