Usenet Newsgroups can be one of the most useful and information rich parts of the Internet, yet they are also the one of the least known. They are specific forums for discussion where anyone can participate by reading and/or posting text messages, and binaries, such as pictures, related to the particular genre of the newsgroup, in this case Halloween.
You will find specific information relating to the alt.halloween.boo and alt.binaries.halloween newsgroups, including a description of both newsgroups, a frequently asked question area, information about newsgroup reading software, and more.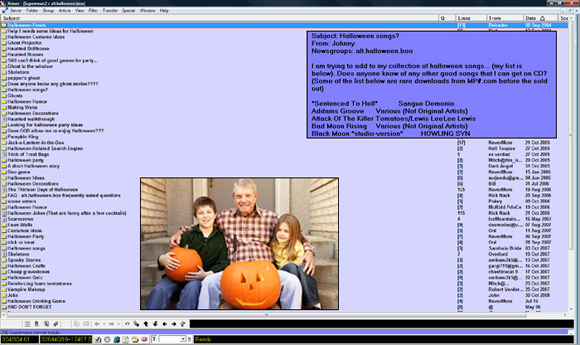 NEWSGROUP READERS
To access Usenet Newsgroups you need two things:
First - The name of your ISP's (Internet Service Provider) newsgroups server, your username and password for your account. You will need this information to setup your newsgroup reader. The newsgroup server name usually looks something like: news.myisp.com.
Once you install and configure your newsreader software and start it for the first time, it will connect to your ISP's news server to compile a list of all the newsgroups they subscribe to. From this list you can select the newsgroups you want to access. If your ISP does not subscribe to a particular newsgroup, you can usually send their support an email requesting that they subscribe to it.
Note - Not all Internet Service Providers have access to the Usenet. If yours doesn't, you can subscribe to a commercial news-server such as Super News, for a small monthly fee.
Second - You will need Newsgroup reading software. Newsgroup readers, as they are commonly called, are programs that allow you to access, read and post messages and binary files to Usenet newsgroups. Once you get the hang of using them they are quite easy. There are many different newsreaders available. Some are freeware and cost nothing, others are shareware and allow a trial use before you have to buy them. Two of the most popular are listed below.
XNEWS - NEWSGROUP READER
"XNews" is a free newsgroup reader that has the all the features most people will need. We like it for its simplicity and ease of navigation. For more information or to download a free copy, visit the official website at http://xnews.newsguy.com.
AGENT - NEWSGROUP READER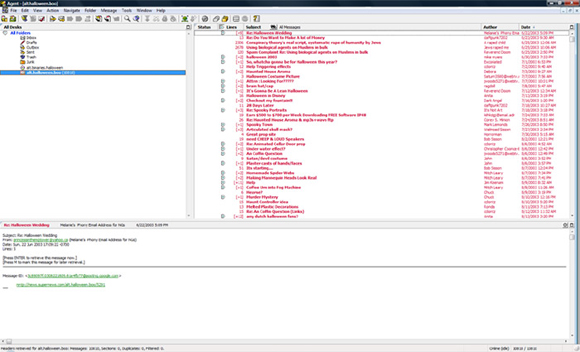 "Agent" is a commercial newsgroup reader that has lots and lots of features. While it is very robust in its features, it can be difficult to master, particularly for those new to using the Usenet. You can download a trial version and try it out before buying it. For more information visit the Agent website at http://www.forteinc.com.
HALLOWEEN NEWSGROUP FAQ
ALT.HALLOWEEN.BOO
alt.halloween.boo is dedicated to the discussion of the Halloween holiday. This newsgroup is for text messages only. Binaries files should not be posted to this newsgroup, but to alt.binaries.halloween instead.
ALT.BINARIES.HALLOWEEN
alt.binaries.halloween is dedicated to the sharing of Halloween related binary files such as pictures, images, video, sound files, etc. Text messages should not be posted to this newsgroup, but to alt.halloween.boo instead.
Can anyone read messages in these newsgroups?
Yes, anyone with a newsreader and who's ISP subscribes to the newsgroup can read messages posted on a newsgroup.
What if my Internet Provider does not carry a newsgroup I want?
If your IP does not carry a newsgroup that you want to access, you can subscribe to a commercial newsgroup service for a small monthly fee. We use Supernews. Their service includes 400 days of binary retention, 1,000 days of text message retention and up to 30 simultaneous connections. These features with unlimited Usenet access only cost $10 a month at this time.

Can anyone post to these newsgroups?
Yes, if you have an interesting story, information, technique, idea, news, etc. related to Halloween, your are invited to post. Or, if you have a Halloween related question, people will be happy to help you out with it. Please remember that your message is going to be read by a lot of people. Include all relevant information. Read through your message before posting it to make sure that you have covered every aspect and that there are no errors.
Who owns the newsgroups?
No one! No one person or group in particular owns the Usenet or the newsgroups associated with it.
How do I "Kill File" advertisers or annoying people?
All newsreaders have a function that can filter out messages from specific posters. If someone is posting annoying messages or advertisements your can configure your newsreader to automatically filter them out. Check the documentation of your newsreader for instructions.
Are political or religious posts appropriate?
No! These newsgroups are dedicated to the enjoyment of Halloween. Nothing can become more heated than political or religious debates. Please avoid these types of posts, even in the guise of public information. These types of posts should never be posted to either of these newsgroups unless it is directly related to Halloween. There are many newsgroups specific to these topics and that's where they should be posted.