Bill Maher Sparks Outrage!
October, 2006
With the world known conservationist Steve Irwin dying just the month before, talk-show host Bill Maher has sparked public outrage by wearing a Steve Irwin Halloween costume comprised of a khaki shirt with a bloody stingray barb attached at the chest to numerous Halloween parties over the weekend, lacking any since of respect for Steve's grieving family.
Bill Maher commonly known for his crude, thoughtless and tasteless banter has really crossed the line this time in what can only be the most classless and utterly unsympathetic insult to Steve Urwin's family.
Maher who hosts a weekly HBO show has angered many of his fans and has angrily refused to apologize for wearing the bloody Steve Irwin costume. "Stop hassling me about my Halloween costume," Maher said, speaking on his TV show, Real Time with Bill Maher.
Photograph of Maher in his Crocodile Hunter costume, complete with a bloody stingray barb hanging out of his chest. Maybe he should have worn a "Jack Ass" costume instead!
---
HALLOWEEN HATE CRIME?
October 2008
In October of 2006, we thought it was bad when liberal extremist Bill Maher wore a Steve Irwin costume, complete with a bloody stingray barb protruding out of the chest, just weeks after Irwin had been tragically killed by a stingray... We were wrong!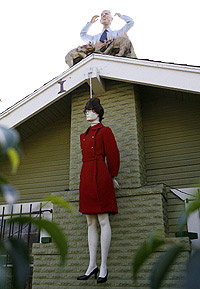 On Monday October 27, in what can only be described as a hateful and horrendous act, Chad Michael Morisette, displayed a life-size mannequin, unmistakably dressed and accessorized to resemble Alaska governor and vice presidential candidate Sarah Palin, hung from the eaves of his West Hollywood, California home from a hangman's noose, no doubt as a political statement.
Further up on the roof, another mannequin, clearly portraying presidential candidate John McCain, sticking half way out of the chimney and surrounded in fake flames as though he is being consumed by the fire.
In spite of receiving telephone calls complaining about this despicable display, West Hollywood spokeswoman Helen Goss said that it was not a violation of the city's municipal code and that this type of act was protected by First Amendment rights.
Furthermore, Steve Whitmore, a spokesman for the Los Angeles County Sheriff's Department, stated that the department does not consider this to be a hate crime. This response by law enforcement clearly shows the immense double-standard in the interpretation and enforcement of "hate crime" legislation. Shouldn't we all be offered equal protection under the law?
At this time, Morisette has refused to take down this display and according to Reuters, Morisette himself admitted that had he depicted Barack Obama in a similar way, it would not have gone over as well.
Some people have called this political display in bad taste, others that it is disgraceful, but most people, irregardless of political affiliation, feel that it is a hate crime and should be removed immediately.
In my opinion, there is no question that had this been a Barack Obama effigy, that this would be labeled a hate crime and the perpetrator would come under heavy scrutiny by the press and would be investigated by the FBI and Secret Service.
But for me, this overt depiction of violence is so obscene, heinous and ugly that it demonstrates how one segment of the American population has become so hateful and vicious. This type of extreme behavior is poisonous to our country and reflects very badly on our beloved holiday of Halloween.