HALLOWEEN - 2.5 BILLION DOLLAR INDUSTRY!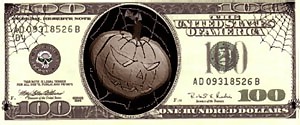 NEW YORK, Oct. 6 1998 (UPI) -- American Express Travel Related Services Co. says shoppers plan to spend an average of $81 on everything from candy to costumes in order to celebrate Halloween this year. Last year, American consumers spent about $950 million just on candy for the All Hallows Eve party.
Already a $2.5 billion industry, spending in 1998 is likely to rise above past years, as 85 percent of those polled say they will spend at least the same amount or more on Halloween-related purchases this year over last.
Whether hosting a costume party or dressing up to go trick-or-treating with the kids, adults say Halloween is growing in popularity. Activities have increased so much in recent years that 45 percent of the 1,000 consumer questioned report celebrating the holiday on a level
that is at least equal to or greater than New Year's Eve. In fact, American Express said its poll showed 48 percent of those questioned feel that Halloween is becoming as much a holiday for adults as for kids.
Where spending is concerned, of those adults who plan to spend more money on Halloween this year, 59 percent will spend up to 25 percent more, while 29 percent will spend up to 50 percent more on such items as costumes, candy, decorations and entertainment.
``The growing popularity of Halloween among adults has created a new opportunity for retailers who are capitalizing on a holiday once celebrated primarily by children,'' said Emelie Smith, vice president of Retail Industries Marketing, American Express Travel Related Services Company Inc.
``This growth may be attributed to the recent surge in retail, restaurant and entertainment industry Halloween tie-ins and promotions targeting adults,'' Smith added.
Halloween revelers will be dividing their budgets among a variety of purchases this year, including candy, costumes and decorations. But, American Express said candy is still the number one item on the shopping list, with 26 percent of those polled using their total budget toward the purchase of sweet treats.
The survey showed shoppers are expected to spend 23 percent of their budget on costumes, 17 percent on pumpkins, 15 percent on in-home entertaining, 10 percent on spooky decorations and 9 percent on attending spooky parties or events.