| | | |
| --- | --- | --- |
| --- | TIPS FOR VISITING HAUNTED ATTRACTIONS | --- |
During the Halloween season, most of us attend one or more commercial haunted attractions. A well laid out, maintained and operated haunted attraction can make for night of enjoyment and a lot of spooky fun. Large commercial haunts typically have been in business longer and have gained the experience needed to provide the best level of entertainment for your money. Smaller or less experienced haunts tend to go one of two ways. They are either really good or really bad, with little in between. Over the years we've learned some valuable lessons that allow us to get the most out of our visits to Halloween haunted attractions.
No Touching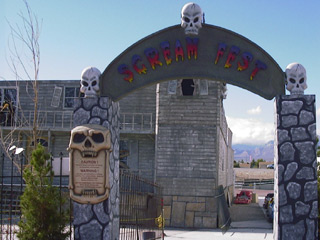 First and most important, employees of a haunted attraction, should never touch you! They can run at and around you, wave scary props at you and even scream at you, but they should never come into actual physical contact with you. They are usually told during training not to touch the visitors. If an employee of a haunted attraction does touch you, report this to management immediately as inappropriate.
Several years ago we had gone to a small haunted attraction temporarily located in a mall and while waiting for our turn to go in, one of the costumed employee's grabbed one of our friend's leg and actually pulled her from the chair she was sitting in. This freaked her out so much she refused to go in. After making a stern complaint to the owner and demanding a refund, we left.
This rule holds true for the patron as well. You should never touch one of the employees, as it could give the impression that its okay for them to respond by touching you. A friend of ours that sets up pro haunts every year has told us of times when his actors have been shoved or even hit by persons going through their haunted attraction. This is just plain rude behavior! Would you like them to do that to you?
Carry a small flashlight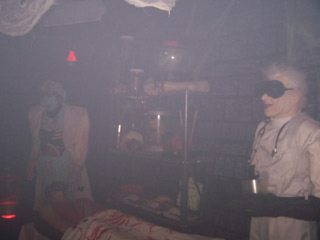 While they are often dark, most professional haunts provide enough light for you to safely navigate your way through. Unfortunately, not all haunts are designed by experienced, let alone, competent people.
Over the years we have gone through a few Halloween haunts that have had area's so dark you could not see at all, and to make things worse, there were dangerous obstacles such as misaligned floor boards that we stumbled over and protrusions from the walls that we bumped into.
If you encounter safety problems such as these, report it to the management immediately. This is the only way to educate the owners of poorly designed haunts that there are safety problems.
Ever prepared, at least one person if not two or three, in our group always carry a small flash light in a pocket or purse for just this type of situation. Remember, haunted attractions are suppose to be scary, but not actually dangerous for its patrons to go through. Just don't use a flashlight unless you actually have to. Your eyes have adjusted to the darkness and using a bright flash light can ruin your "night vision". We usually choose a mini Mag-Lite type that you would hang on a key chain. It's just the right size and puts out just enough light to navigate when pointed directly at the floor.
What to Wear

First, don't show up dressed in a Halloween costume without checking with them in advance. Most haunted attractions do not allow patrons to go through while wearing a costume, this is because you could be mistaken for an employee.
Even if you don't think you will need it, take a coat or jacket and a hat along with you just in case the weather turns cold or rainy. Be sure to wear athletic shoes or comfortable boots to protect your feet. If it's a corn field maze, you could be walking on an uneven and possibly debris laden path and should wear hiking boots.
A friend of ours had gone to a large corn maze in Kansas and part way through tripped over a corn stalk that had fallen over a dark part of the path. Sadly, he had to finish the maze with a busted lip and sprained wrist. Always keep an eye out in this type of outdoor haunt/maze for things like fallen corn stalks, piles of hay, tree branches, tree roots, rocks, holes in the ground and other obstacles that could be tripped over. Let the management know where the spot is so they can take care of the problem.
How Scary Is It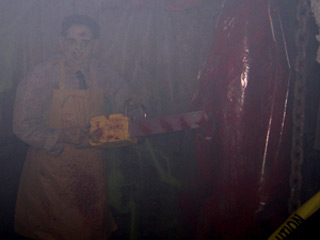 Lets face it, everyone has their own tolerance level and taste when it comes to horror and being scared, even for entertainment. From mild to wild, haunted attractions run the gamut. Some are relatively tame, while others are extremely frightening or unspeakably gory. Its more fun to go as part of a group and those that scare easily feel more secure with their friends around to protect and help them.
Never pressure anyone to go into a haunt if they don't want to. For those brave enough to go with you, yet scare easily, hold their hand or keep them between two people to act as a fear buffer. If someone you are with gets really scared, stop and let them catch their breath and calm down. Be supportive by reminding them that its not real and just for fun. Do these things and they will have a better time, appreciate your patience and know that you are a true friend.
No matter how scared you get, never run through a haunted attraction, it's just too easy to run into a wall or trip and fall. If its just too scary for you and you can't take it, leave through an emergency exit or tell one of the employees that you need to leave. They'll usually be more than happy to help you out.
Don't take young children into a haunted attraction know for being ultra scary or gory. Ask the ticket agent how scary it is and what the recommended minimum age is if they don't have it posted. If the haunt seems appropriate for their age, be sure to hold their hand all the way through. Never let them go through a haunted maze alone unless it's a haunt just for kids! There have been a few times that our group has come upon a lone child of about 8 or 9 years old, who's become scared, and one of the girls will take their hand and walk with them the rest of the way.
Safety Tips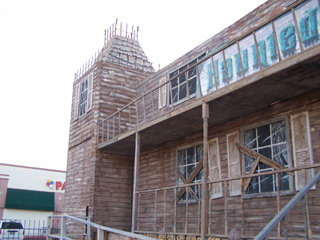 Most Halloween haunted attractions are required by state and/or local law to include certain safety provisions such as emergency exits and fire suppression systems. If you spot a real safety issue, let management know about it. If they seem unconcerned, call your local fire marshal and let them know about it.
If you came with a group, stick with the group. If some decide to split off, make sure that you all have a time and meeting place set up. If you have to park in a large mass parking lot, don't leave valuables in your car. Take the minimum amount of stuff with you, a small cross-body bag can carry whatever you'll need for the night.
Discount Coupons
Businesses often offer discount coupons to encourage attendance. Some coupons are only good on low traffic days, while others are good any time the haunt is open. Either way, you can save money by using them. If the attraction you plan to visit has a web site, check to see if they offer printable coupons. You can also check your local newspaper to see if they're running an ad or even ask at the ticket counter.
Our Favorites
Below are some of our favorite places to visit:
Disneyland's Haunted Mansion - California
Since August of 1969 Disneyland's "Haunted Mansion" has been thrilling and chilling park goers and has become a favorite attraction during the Halloween season.
A Pumpkin Festival - Anytown USA
Many town's across the country hold a pumpkin festival as part of there Halloween and Fall festivities.
Knott's Scary Farm - Southern California