MAIN CONTENTS

Featured Articles
The latest Halloween articles from the staff of Halloween Online.
Halloween Costumes
Halloween Costumes, Halloween Masks and Makeup ideas.
Halloween Decorations
Halloween decorations you can make or buy for the spookiest night.
Halloween Recipes
Our cookbook filled with Halloween recipes, tasty tricks and treats.
Halloween Games
Spooky Halloween games adaptable for both kid's and adults.
Halloween Party
Halloween Party planning and ideas for your festivities.
Halloween Safety
Safety information, tips and suggestions for a safe Halloween.
101 Halloween Tips
That's right, 101 great Halloween tips, ideas and suggestions!
Halloween Props
Spooky Special Effects and Props for your Halloween haunt.
Pumpkin Carving
Pumpkin carving tips for carving your Halloween Jack O' Lanterns.
Movies & Music
Suggestions for the best Halloween music and Halloween movies.
Halloween Crafts
Halloween craft ideas and instructions for lots of Halloween fun.
High-Tech Halloween
Ghostly gadgets for your computer, cell-phone, Palm Pilot and more!
Pumpkin Festivals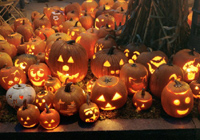 Pumpkin festivals are a great way to celebrate the spooky season. These Fall festivals usually include a variety of activities such as costume contests, face painting, Halloween parades, vendors, entertainment and of course huge carved pumpkin displays as the main event. While many communities around the country hold a Pumpkin or Fall festival, some of the largest events include:
Keene, New Hampshire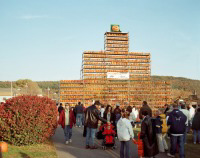 Keene is full of fascinating things to see and do—especially during Pumpkin Festival time! In 2007 the Pumpkin Festival displayed 25,644 carved pumpkins and has set numerous world records. In 2003, they broke their own world record by having 28,952 carved pumpkins on display at on time, in one place! The Keene Pumpkin Festival is held each year during New Hampshire's brilliant foliage season…reason enough to visit. http://www.pumpkinfestival.org/
Boston, Massachusetts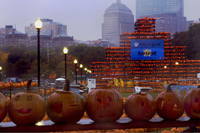 In 2006, Bostonians carved and lit 30,128 jack-o'-lanterns to shatter the Guinness World Record. In 2007, the Boston Pumpkin Festival worked once again to smash their own record for the most lit jack-o-lanterns at one place, at one time. Even though they fell short, they still carved over 21,000 pumpkins! This year's event promises to be just as exciting with live music, face painting, children's activities, great food, and of course — pumpkin carving!
Maine Pumpkin Festival - Cumberland, Maine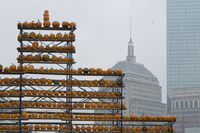 This year, Camp Sunshine is gearing up again to beat the World Record but in Maine! This year's event will take place at the Cumberland Fairgrounds and promises to be just as exciting with live music, face painting, children's games, lots of great food, and pumpkin carving, of course! Make this annual event a tradition for your family and friends if you live in the area. Join in for a day of pumpkins, entertainment, and family fun at the Cumberland Fairgrounds!
Visit a Pumpkin Patch
If there are no Pumpkin Festivals near you, you can also visit a real pumpkin farm. These farms can be found across the nation from the West coast to the East coast, and they often have all kinds of events planned for the month of October. Look in your local phone book for Christmas tree farms, most of them grow pumpkins as well.
When visiting or investigating any spooky place be sure to obey all local laws and always respect the privacy of land owners and residents. Always get advance permission to enter private property. Never trespass on, take anything from or damage anyone's private property. Always show respect!