MAIN CONTENTS

Featured Articles
The latest Halloween articles from the staff of Halloween Online.
Halloween Costumes
Halloween Costumes, Halloween Masks and Makeup ideas.
Halloween Decorations
Halloween decorations you can make or buy for the spookiest night.
Halloween Recipes
Our cookbook filled with Halloween recipes, tasty tricks and treats.
Halloween Games
Spooky Halloween games adaptable for both kid's and adults.
Halloween Party
Halloween Party planning and ideas for your festivities.
Halloween Safety
Safety information, tips and suggestions for a safe Halloween.
101 Halloween Tips
That's right, 101 great Halloween tips, ideas and suggestions!
Halloween Props
Spooky Special Effects and Props for your Halloween haunt.
Pumpkin Carving
Pumpkin carving tips for carving your Halloween Jack O' Lanterns.
Movies & Music
Suggestions for the best Halloween music and Halloween movies.
Halloween Crafts
Halloween craft ideas and instructions for lots of Halloween fun.
High-Tech Halloween
Ghostly gadgets for your computer, cell-phone, Palm Pilot and more!
Knott's Scary Farm - Buena Park, California

Every year the Knott's professional "scare-masters" transform the Old West themed Knott's Berry Farm into what is known as "Knott's Scary Farm" for another year of the world's first, biggest and most famous theme park Halloween event in the world!
The spooky Halloween conversion of Knott's Scary Farm usually begins on the last weekend in September and last through the last weekend in October for a whole month of horrifying nights through Halloween night!
This is the original, in-your-face live Halloween experience – a 160-acre living horror movie filled with thirteen chilling mazes, seven hair-raising shows, four horrific scare zones and more than 1,000 fully costumed, very-alive creatures wandering the park, mazes and scary theme rides, all determined to make a lasting impression on you face to face.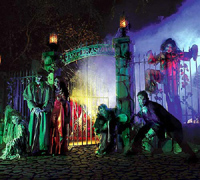 The Ghost Town - You're never safe from their infamous ghouls, ghosts, goblins and other hideous beasts lurking in the Ghost Town's hundreds of nooks and crannies.
Beware of Werewolves, the Grim Reaper, half-faced Miss Purdy, The Bride, the notorious Sliders and literally hundreds of other "gruesome" creatures whose sole intent is to make your visit utterly unpleasant.
You can also visit the Gypsy Camp for some spirited palm and tarot card readings.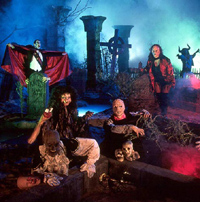 Silver Bullet Throat - When the Silver Bullet Cowboy came to Calico his heart was pure, but the Halloween season brings out the monster in our resident gunslinger. As night falls our champion undergoes a hideous transformation and roams the "Silver Bullet Mine Town" with a posse of evil miners and other creatures of the night.

The Gauntlet - A tranquil kingdom swept by a terrible plague, its inhabitants doomed to eternal suffering. Seeking revenge, the tortured, scarred souls search for the one responsible – unleashing their fury on anyone who dares to run the Gauntlet!

Carnevil - The living dead roam the Boardwalk to cause misery in this eerie zone featuring entertainment more easily defined as surreal and sinister rather than scary. Watch your back as the grotesque, zombie revelers are always looking for victims to add to their gruesome party!