Disneyland's Haunted Mansion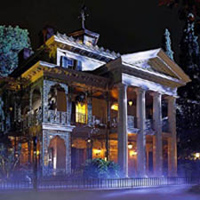 The Haunted Mansion at Disneyland in Buena Park, California has long been a visitor favorite. It's located in the New Orleans Square section of the park, right next door to "The Pirates of the Caribbean" ride, which is also a must see ride. We recently visited Disneyland and found some new additions to the Haunted Mansion that we had never seen before.
It had been quite a while since our last trip so we have no idea when they made these changes. The change that stood out the most was the crystal ball that used to speak to you from the séance table. It now floats through the air above the table and it looked pretty cool!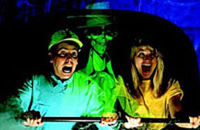 It's quite an experience for first time visitors. You first enter a large room that appears to be growing taller but actually you are dropping down to the lower level to board one of the famous Doom Buggies that will take you through the attraction.
Now you are taken through a world of humorous grave diggers and ghosts, ghostly dancers having a ball and a well populated graveyard. As you end your ride you must beware of hitchhiking ghosts! You'll see one pop up between you and your Doom Buggy partner on the way out!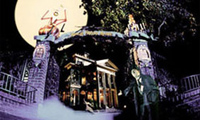 During the holiday season, a whole new crew of fun-loving spooks — led by Jack Skellington — haunts the mansion's hallowed halls during the "Haunted Mansion Holiday". Inspired by Tim Burton's Nightmare Before Christmas, the Haunted Mansion comes alive with characters from the film. It's one of those "have to see it" kind of thrills.
Check out the Haunted Mansion's ghostly exterior grounds re-decorated by Jack Skellington!. You'll laugh with delight as ghosts make their own unique Christmas trees in the snow-covered graveyard and Oggie Boogie occasionally makes an appearance. For more information on the Disney Haunted Mansion, click here.
When visiting or investigating any spooky place be sure to obey all local laws and always respect the privacy of land owners and residents. Always get advance permission to enter private property. Never trespass on, take anything from or damage anyone's private property. Always show respect!