For this Halloween effect we wanted a coffin that seemed as though it were haunted by some unearthly spirit within. This effect works well in your Halloween graveyard, on the front porch or even as a display in the house for a Halloween party. Just make sure that you illuminate the prop with enough light so that your guests can see it well.
The Coffin
For the coffin, we wanted the toe-pincher type, so we bought a "Toe Pincher Coffin" from the Halloween Connection. This coffin works great for this effect because it has small gaps between the boards wide enough to allow light to shine through. We wanted the lid of the Halloween coffin to be at about waist level when our visitors passed by it. To do this, we purchased two plaster pedestals to act as coffin stands. A light coating of cob webs from a cob web spinner over the coffin adds a real finishing touch.
Fog Effect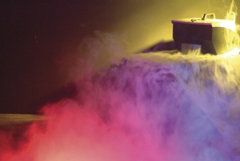 We placed a "Mister Kool" low-laying fog machine behind the coffin to create fog flowing underneath the coffin. The Mister Kool fog machine is able to create a great looking "dry ice" style fog effect.
This fog machine is simple to load and inexpensive to operate, because all you need is just regular ice cubes and fog juice.

The Light Effect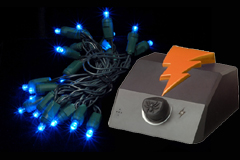 To produce a ghostly light that seems to pulse from inside the coffin, we placed a string of blue colored twinkle lights (Xmas lights) inside the coffin and plugged them to the "Halloween Lighting Effects Machine" controller. This device is sound-sensitive and picks-up the sounds from the CD player to make the lights brighten, dim and flicker. Adjust the sound sensitivity control on the unit to the volume of the CD player.
If you don't want the electrical cord to show you will need to drill a hole through the side or bottom of the coffin where it will not show and large enough for the plug of the cord to fit through using a hole bit.
What's Inside?
We chose not to put anything inside the coffin since it would be at a distance from our visitors and not opened. But you could place a skeleton, ghost or other Halloween prop inside with the lights concealed underneath.
The Sound Effects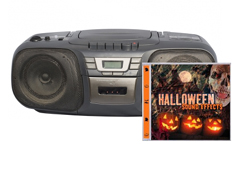 For the spooky sound effects, we placed a battery powered CD player inside the coffin and set it on automatic repeat. We made our own effects CD with a combination of moaning and a strangle sounding effect recorded on it.
There are plenty of Halloween sound effects CD's available that have many suitable sound clips on them that can be used for making the CD. We used a sound clip off the "Halloween Sound Effects" CD pictured to the right. Track #35 - "Spirits in the Attic"