MAIN CONTENTS

Featured Articles
The latest Halloween articles from the staff of Halloween Online.
Halloween Costumes
Halloween Costumes, Halloween Masks and Makeup ideas.
Halloween Decorations
Halloween decorations you can make or buy for the spookiest night.
Halloween Recipes
Our cookbook filled with Halloween recipes, tasty tricks and treats.
Halloween Games
Spooky Halloween games adaptable for both kid's and adults.
Halloween Party
Halloween Party planning and ideas for your festivities.
Halloween Safety
Safety information, tips and suggestions for a safe Halloween.
101 Halloween Tips
That's right, 101 great Halloween tips, ideas and suggestions!
Halloween Props
Spooky Special Effects and Props for your Halloween haunt.
Pumpkin Carving
Pumpkin carving tips for carving your Halloween Jack O' Lanterns.
Movies & Music
Suggestions for the best Halloween music and Halloween movies.
Halloween Crafts
Halloween craft ideas and instructions for lots of Halloween fun.
High-Tech Halloween
Ghostly gadgets for your computer, cell-phone, Palm Pilot and more!
| | | |
| --- | --- | --- |
| --- | HALLOWEEN TOE-PINCHER COFFIN | --- |
Normally, buying a full size coffin to use as a Halloween decoration or prop can be a very expensive proposition, but the classic Toe Pincher style coffin from the Halloween Connection changes that.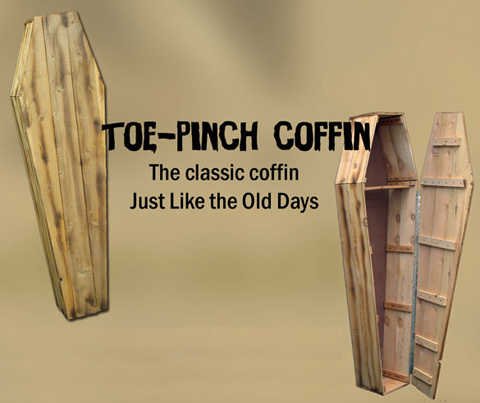 When we spoke with Haunted Enterprises, the manufacturer of the coffin, they told us that they wanted to design a Halloween coffin with three specific goals in mind. First, that it looked like an authentic, old world "Toe Pincher" coffin. Second, that it was affordable to buy and lastly that it could be shipped UPS instead of freight, saving the buyer hundreds of dollars in shipping costs. After receiving a coffin from them, we have to agree that they have achieved all three of their goals.
Measuring almost six feet in length and priced at under three-hundred dollars (not including shipping), these hand-made coffins make a great looking Halloween prop. The sides and lid are made from pine boards and have been distressed to give it an old, weathered look. The lid is attached with a full length piano hinge for added strength. The back of the coffin is made from heavy weight fiber-board to keep the overall weight down. You can even buy a fabric lined version for an additional fee.
This prop was designed to hold a full size skeleton or other Halloween prop. While it is not quite wide enough for most adults to fit in, a slender adult or child under five-foot-eight in height could fit inside. Since the back is made from fiber-board, make sure that the coffin is laying on a flat, solid surface so you won't damage the back, or if you will have the coffin standing up, that it is against a wall for stability. While it is built fairly sturdy, it was not designed to withstand a lot of force applied to the inside walls, so don't thrash around inside of it. Click here for some of the ways we've used this coffin.
As for shipping, the coffin is shipped via UPS from the manufacturer, in one box and fully assembled! Below are the measurements of this great Halloween coffin:
Outside Length:
Top Width:
Shoulder Width:
Bottom Width:
Outside Height:
Inside Height:
Weight:
70.25"
9.5"
19.25"
10"
11.5"
10.5"
34 pounds
Available exclusively from the Halloween Connection