| | | |
| --- | --- | --- |
| --- | HALLOWEEN PROPS & SPECIAL FX | --- |
CREEPY COBWEBS
No graveyard or haunted house would be complete without a layer of realistic cobwebs adorning it. There are many ways to create that old, cobwebby look and here are a few of the types that work best for us.
---
COBWEB SHOOTERS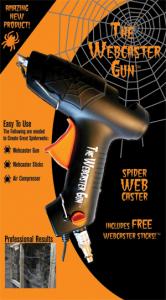 Ever wonder how haunted attractions spin their cob webs? The "Webcaster Gun" shoots out realistic looking webs much faster than fan type web-spinners. The base unit is a highly customized hot glue gun, equipped with a special tip that transfers the webbing material into a stream of compressed air, allowing for detailed application of cob-webs. These types of web shooters do require an air compressor with up to 100psi.
Whether you need close-in webs for detailed work, or are shooting webs over the front of your garage, this unit can do the job. Using the flow-valve, you can adjust amount and density of the cob-webs produced. The Web material cleans off easily, but we always recommend that you test some on important materials. This unit uses regular hot glue sticks to produce lots of great looking cob-webs. Or, you can buy special glow-in-the-dark glue sticks that glow under Black Light. Another nice benefit to these types of web shooters, is that you don't have to worry about the web fluid drying up over time.
---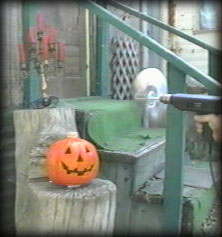 COBWEB SPINNERS
Used for years by haunt enthusiasts, commercial haunted house operators, special effects companies, movie studios and major theme parks, cobweb spinners are fan-like units that spray out thin filaments of a cobweb like material.
You just pour in some of the cobweb fluid, attach the Cob Web Spinner unit to a standard electric drill (must spin at 1,100 to 1,500 RPM) and you can cover a room size area with great looking cob webs in just a few minutes. The web spinner includes many improvements over other professional spider web shooters including professionally machined parts, large capacity and metal construction. We use our Cob Web Spinner to add webs to our tombstones, skeletons and other props.
---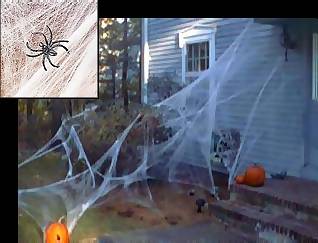 STRETCHABLE COBWEB
Used well, those bags of stretchable cob webs you can buy during the Halloween season can add a great effect to particular areas of your haunt.
The effect can be enhanced by using the cob web spinner to add light webs around the heavy ones.
Used well, those bags of stretchable cob webs you can buy during the Halloween season can add a great effect to particular areas of your haunt.
---
LARGE SPIDER WEBS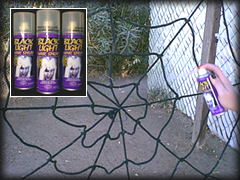 Large spider webs made from cotton or nylon rope can be used to create an entire scene. These are available from three to nine feet in diameter. We like to hang one of the large ten foot spider webs between two trees, at a slight angle. We then use our cobweb spinner to highlight the web and where it connects to the tree for a more realistic effect. From here you can place a large spider prop on it or hundreds of the tiny plastic spiders that cab be purchased in bags. Black Light hair spray will give it that added kick under a black light, just take a couple cans and cover the web with spray, let dry and add your spiders.
---
WALKING THROUGH COBWEBS
Here's a trick that has been used in haunted attractions for years. Hang long pieces of black thread from tree limbs so that as your trick or treaters walk through them it feels like they are moving through spider webs. We like to have a particular area that our guest have to pass through that we use string webs and our Cobweb Spinner over and around the path. This really emphasizes that they are walking through spider webs. Avoid using tacks, staples or other sharp devices to attach the thread, as these might come out and become a danger to your visitors.