MAIN CONTENTS

Featured Articles
The latest Halloween articles from the staff of Halloween Online.
Halloween Costumes
Halloween Costumes, Halloween Masks and Makeup ideas.
Halloween Decorations
Halloween decorations you can make or buy for the spookiest night.
Halloween Recipes
Our cookbook filled with Halloween recipes, tasty tricks and treats.
Halloween Games
Spooky Halloween games adaptable for both kid's and adults.
Halloween Party
Halloween Party planning and ideas for your festivities.
Halloween Safety
Safety information, tips and suggestions for a safe Halloween.
101 Halloween Tips
That's right, 101 great Halloween tips, ideas and suggestions!
Halloween Props
Spooky Special Effects and Props for your Halloween haunt.
Pumpkin Carving
Pumpkin carving tips for carving your Halloween Jack O' Lanterns.
Movies & Music
Suggestions for the best Halloween music and Halloween movies.
Halloween Crafts
Halloween craft ideas and instructions for lots of Halloween fun.
High-Tech Halloween
Ghostly gadgets for your computer, cell-phone, Palm Pilot and more!
Planning a Halloween party can be one of the most enjoyable and memorable times you, your family and friends can have, yet it can also be very stressful, particularly during the current economy crunch. We barely have enough to make it from pay check to pay check but we still want to be able to give our families a fun Halloween on a budget.
Everything from the specific theme of the party to the Halloween decorations you want to use should be planned out as far ahead as you can so you can start planning a Halloween spending account. Below are some money saving tips that can help keep your cash in the piggy bank, while still throwing a Halloween party to remember.
Hopefully some or all of these ideas may help keep your wallet from emptying while still having a Halloween party filled with great memories and fun for everyone. Remember, no matter how much or how little you spend, the true of Halloween value is having good friends and family together for a the special event. Happy planning!
Create a Budget - Let's face it, things are tight right now and any savings we can find are always welcome. The first thing that can really help is to Budget for Halloween as much as you can and as far in advance as possible, so that you will have the extra cash for your special event. have a yard sale in early Fall to bring in some extra bucks. Not only will it help with your Halloween budget but it will also get rid of things cluttering up your life that you don't need anymore.
Plan Early - The early vulture catches the carcass, as we say around here, and early planning can be a lot easier on your pocket book. First, you need to decide what type of party theme you want to have and then research early for reasonably priced products for that theme. Planning early can save money on food, drinks, decorations and party ware as well as increasing the odds that more party invitees can attend if you get your Halloween party invitations out early. In fact, if you hit the after Halloween sales you can pick up all kinds of things at anywhere from 50% to 75% off their normal price. Halloween themed paper plates, drinking glasses, serving bowls, utensils and decorations for inside and outside your home can all be found at mass market retailers, party stores and Halloween specialty shops.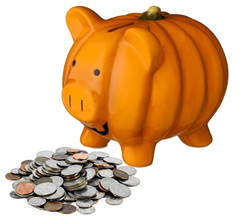 Buying Online - Use the Internet to find deals on spooky decorations, table ware, games and other items needed for your party. You can often find bargains through your favorite search engine by typing in the name of the product you are looking for followed by the word "discount" or "coupon". Also do comparison shopping. Some search engines will bring up a list of the product that you are looking for and show the price given by different retailers.
Ordering decorations and other party goods online early can also save on the shipping since last minute purchasers often have to pay more to receive their order with higher priority shipping rates and may not be able to have time to find discounts. Some sites even offer specials such as free shipping on large orders and no sales tax when ordered from out of your home state, except California, which now charges sales tax no matter what state the order was placed from.
Food & Beverage - Most of us already have boxes full of decorations from previous years, but food and beverage are expendable items that must be purchased or created each year. Cooking up your own treats can save money and usually tastes better when made using your favorite Halloween recipes. You can also throw a pot-luck party, where everyone brings a different dish or treat. This should be coordinated a head of time, though, so everyone brings something different. You don't want 10 bags of chips and 10 cases of drinks and nothing else. It takes a little more effort to get one of these together but it saves money in the long run.
One for All - Get a group together and plan the party together, sharing the expenses of the event. This can also be helpful in creating decorations, bringing set up supplies and splitting responsibility, especially for those who are also working while trying to plan the party. Rather than renting, borrow any extra tables and chairs that you need from friends and family. You can also do this by having a Halloween Block Party which would work basically the same way. Your whole neighborhood gets together and plans a party for your street. This works great in suburban neighborhoods where you are close with your neighbors.