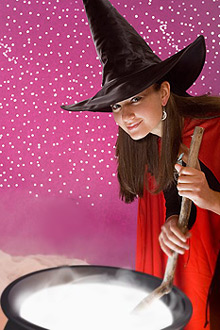 A Halloween potluck party is a great way for you and your guests to enjoy a variety of tasty treats, saves you a lot of money and takes some of the stress out of preparing enough food for a hungry crowd on your own.
A successful potluck does take a bit of coordination, otherwise you could end up with a table full of only cookies and cake or chips and drinks. You also want to plan whether it will just involve treats or have actual food as well.
Dishes like Sloppy Joes, a Jack-O-Lantern shaped pizza, creamy dips in a bread bowl and things like this will add to the buffet and stop the sweets overkill. You can find recipes for some of these in the Halloween Recipes section.
How it Works - For a potluck, every one of your guests needs to contribute by bringing one food dish, dessert or beverage. It should be enough to feed all of the guests, about double the size of a normal recipe. It depends on the amount of guests that you'll have. Everyone should be able to have a taste of everything and maybe go back for more.
The first thing to decide is whether real meals will be included or just Halloween treats. The advantage of having at least one or two meal dishes is that it will break up that "sweets overkill". having nothing but sugary treats like cookies, cakes, caramel apples may sound good but with all that sweet you'll want something salty, too.
Having a meal food like Sloppy Joes, with topping like thin cut green and red peppers to use for legs can be made to look like giant spiders. Use sliced olives for eyes. You could have someone make a couple of pumpkin shaped pizzas using a large cookie sheet shaped like a Jack-O-Lantern. Use veggies to make the face on it and mix mozzarella and cheddar cheese to give it an orange look.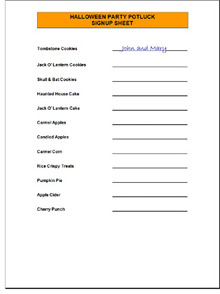 Some food can be a bit messy so be sure to have plenty of napkins on hand along with a container of hand wipes to use. Also make sure that you have a guest bathroom ready because, naturally, people will have to use it to wash their hands and for other things. You can decorate for Halloween in that bathroom and make sure that everyone knows that it's the designated party bathroom to keep them from wandering the house.
For those who are not very good cooks, bakery bought items are acceptable, but should have a Halloween theme. You can find cookies and cakes with a Halloween theme at most grocery stores or mass market retailers that include a grocery section. You can also find tortilla chips in the Halloween colors of black and orange. They go great with a green dip, like avocado or a garden green veggie dip.
Coordination - After you decide what kind of food to serve, create a Potluck Signup Sheet, so that people can write down what they are going to bring and you can keep track of who's bringing what. You will need to let everyone know how many people are expected, so they can plan accordingly. Click here for a downloadable example in MS Word. Since it contains all treat items, you can always create one of your own using the food decided on for the party in a program like MS Word.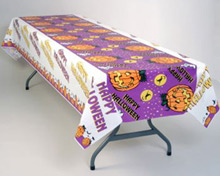 Serving - One or more buffet tables are the usual means for serving a group of people. Make sure that you have plenty of table and serving ware. It should all be Halloween themed and match with the rest of your party decor as best as possible. You can also find eating utensils that are Halloween themed or go to a restaurant supply store and pick up large packs of plates, napkins, plastic utensils that usually come in white but can also be found in black or brown that will suit your needs.
Place lined trash cans strategically for your guests to discard their dirty plates. Set up one for paper good, one for soda cans and bottled water bottles for recycling. If you plan on saving the plastic utensils to be used again, have a separate bucket set aside to have guests place them in. Recycle what you can, like cardboard soda cases, cans, plastic bottles. Usually dirty paper plates can't be recycled. If you choose plastic plates, rinse them afterwards and add to your plastic bin. This might seem like extra work but you should recycle whatever you can.
With some planning, you can have a great Pot Luck Halloween party with tons of yummy food and not much work one the part of one person. Everyone gets to have fun and gets kudos for the great buffet!