| | | |
| --- | --- | --- |
| --- | HALLOWEEN SHOPPING TIPS & BUDGETING | --- |
How many times have you waited for the stores to finally receive their Halloween stock only to find yourself short of cash? Or had some unforeseen event drain your pocket book at the last minute? The key is to build your holiday spending money through-out the year, not just in October. Budgeting for Halloween can be a difficult task, and with only two months separating it from Christmas, it's even harder. There are so many great Halloween props, costumes and decorations to buy or make and so little money these days. Below are some tips for collecting extra cash for Halloween.
Start A Pumpkin Bank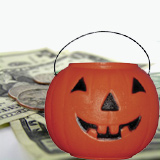 Always trying to find new ways of having more funds by Halloween, my wife and I bought a small plastic pumpkin several years ago to act as our Halloween savings bank. At the end of each day we both drop our change into the "pumpkin bank".
You can collect a lot of change over the course of a year and throwing it into a jack-o-lantern reminds us of what we are saving for. If you collect the amount of change that we do, you may have to empty it a few times. Just remember to save it for Halloween. We average well over a hundred dollars ever year!
You can roll the coins yourself in paper coin rollers and exchange them at the bank for paper money or use one of those coin machines located at some grocery stores. Rolling them yourself takes more time but you get to keep one-hundred percent of your cash, whereas coin machines will keep a percent of your money as there fee. What we do is roll all of our nickels, dimes and quarters ourselves, but use a coin machine for the pennies, which are the most plentiful, but lowest value.
Open A Halloween Savings Account
You've heard of the old Christmas Club Accounts, why not a Halloween Account. Open a savings account at your local bank or savings and loan. From every pay check make a deposit into the account. Even if it's a small amount, ten or twenty dollars, you'll end up with a nice chunk of cash that will come in handy by October.

Have A Garage Sale
Holding a garage or yard sale in August or early September is a great way to infuse your pre-Halloween funds. Plus it clears out more space in your garage for Halloween stuff! When picking things out for your garage sale, always remember "If you haven't used it in a year, seriously consider sell it!"
And think of all the wonderful things you'll be able to build or purchase for your upcoming Halloween haunt! If you have neighbors that want to get in on it, make a co-op out of it. It's a great way to get your neighbors on your street to dress up their houses for Halloween as well. Some quick sellers at most yard sale's include Books you don't intend to read again, Old Computer and Video Games, Video Cassette Tapes and DVD's, Music CD's, Cassette Tapes and Vinyl Records, Dolls, Action Figures and Toys and Unwanted Clothing.
Here's a perfect example. We recently went through our storage boxes and found that we had over three hundred movies on video tape, all of which we had already replaced with DVD's. We priced these for only a dollar a piece and sold them all the first day of our garage sale.
Auction Off Unwanted Items
You probably have hundreds, if not thousands of dollars worth of unused items just laying around the house, in the basement or stored in your garage that you can auction off on eBay. You may not think that anyone would possibly buy the things you intend to discard, but remember the old adage, "One person's' trash is another person's treasure".
While selling online does take more attention and time, you can often get more money for your unwanted stuff than you would selling them at a garage sale. Selling off these things will also help to will cut down on clutter in your home and storage.
Recycling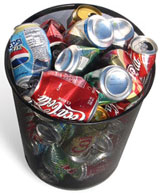 Be sure to save all of your aluminum cans, plastic containers, glass bottles and other recyclables through-out the year, so that you can take them to a recycling center in October and trade them in for cash. We keep a tall plastic trash can in our utility room specifically for putting all of our recyclables in. When it fills up, we transfer its contents to large lawn bags and store them in the garage until we take a trip to the local recycling center for our reward.
Of equal importance to having extra money to buy Halloween products with, is that recycling is a great way to help preserve our natural resources and protect the environment.
Homemade Halloween Crafts
If you enjoy crafting, make some extra cash by selling your Halloween crafts. Many communities hold a Fall Festival or Craft Fair where you can rent a booth to sell your spooky wares. Homemade Halloween wreaths, centerpieces, jewelry and spooky signs tend to be good sellers at these types of events. You will want to start making your products several months before the scheduled event.
Take Advantage of After Halloween Sales
And be sure to save some of your Halloween budget for the after Halloween sales. You can find some great deals and you'll kick yourself if you have to miss them. We know, we do it every year! The first week or two after October 31st. is a great time to look for some great bargains on Halloween decorations, props and costumes.
Retail Stores
Both online or traditional brick-and-mortar stores, including temporary Halloween stores usually have a sale on there left over stock beginning the day after Halloween. Its usually cheaper for them to sell their unsold stock at a discount, than to transport and warehouse it for eleven months.
Discounts starting at 50% off and more are not uncommon and should be taken advantage of...if you find items that you will actually use. Don't buy something just because its on sale or you may end up trying to sell it at your own garage sale some day.
Obviously you don't want to buy candy for next Halloween, I mean giving out stale, year old candy is beyond cheap and a real bad idea. However, we always buy a few bags of discounted candy that "we" like to eat. Plus, miniature size candy is always a sweet addition to Christmas stockings.
Garage & Yard Sales
Particularly in a bad economy, many people will sell some of their Halloween items to garner extra money for Christmas or just because they need the extra cash. Other people may be moving from one location to another and don't have the space in their moving truck to take everything they own and end up selling some of their Halloween stuff.
We've found some really nice decorations over the years, but be sure to act fast or you might lose out on a great deal. A week after Halloween this year I was on the way to the grocery store, when I spotted an extra large plastic blow-mold Jack O' Lantern that is not made any more at a yard sale. I decided to stop back by one my way home from the store to buy it. Unfortunately, in just a half hour time, it was sold to someone else.
The nice thing about garage sales is that you can haggle. We've found that the best way to get the most for your money is not to do it over any single item, but rather a group of items. We collect everything we are interested in buying and place it one pile and then ask the seller how much they would take for the lot. Another great thing about these types of private sales is that you don't have to pay any state sales tax or for shipping.
Thrift Stores
While rare, you can on occasion find a real Halloween treasure at a thrift or second-hand store.
Halloween Online Staff