Throw A Halloween Block Party!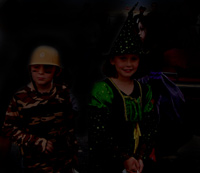 If you live in a more suburban area a Halloween block party will give you a chance to get closer to or meet your neighbors in a festive setting. In this busy world we live in, the feeling of community and neighborhood friendship isn't what it was twenty years ago. This is a great way to get back that feeling of being a part of a close knit community.
To pull off a successful Halloween block party you need to do some advance planning. A couple of months ahead you should start thinking about dates, activities, and supplies. You should start enlisting the help of neighbors, assign each one a particular thing to do.
Plan food, organize games, check with your City Hall about permits, insurance and zoning. Organize a meeting with neighbors to find out how they can help, and what they can supply. You can plan on the block party to be held before Halloween or on Halloween night as an alternative to trick-or-treating.
The first obstacle you'll have to get past is closing off your street to motor vehicles. If you close the street, you may have to take out liability insurance and obtain the approval of affected neighbors if they choose not to be involved with the party. You may also be required to obtain traffic barricades from the city along with a permit. Check with your local police department for information on temporarily blocking off the two ends of the street in your neighborhood.
If there is a fee for the permit, you may want to set up food and drink booths and charge a low price to make back the money. If everyone involved chips in it will cut down on expenses.
You'll want to plan Halloween games, a costume contest, food and drink booths and plenty of Halloween decorations. If all neighbors decide to decorate their own yards for Halloween, you can have a walk down each side of the street to view the yards and award the best Halloween decorations.
It may sound like a big undertaking but with the proper help from neighbors you can make a Halloween block party an annual tradition for your neighborhood that will last for years! It will also set a good example for your children, showing them that friendship and community are not a thing of the past.