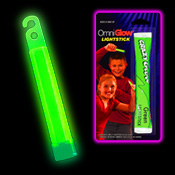 Whether your call them Halloween light sticks or glow sticks, those little magic wands that when bent produce an eerie glowing light, all without batteries or other electrical source a very cool. They come in a variety of sizes, colors and light emitting duration and can be used for a number of Halloween related purposes.
A light stick uses a chemical reaction to create energy, in this case light, by mixing multiple chemical compounds together. The typical light stick is a plastic tube that contains phenyl oxalate ester. It also holds a small glass vial of a hydrogen peroxide solution, often called the activator, because it activates the chemical process and causes the fluorescent dye to glow.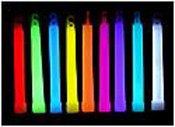 When the tube is bent, the glass vial containing the hydrogen peroxide breaks and mixes with the phenyl oxalate ester solution and creates a chemical reaction that causes the fluorescent dye to emit light. This is called chemiluminesence. The particular fluorescent dye used is what gives the light a particular color. Light sticks will glow for minutes to hours depending on the amount and strength of the chemicals used.
Temperature does have an effect on light sticks. In general, when a light stick is cold it will glow less, but for a longer period of time. Conversely, when it is hot, it will glow brighter, but for a shorter amount of time.
Below are some of the ways that light stick can be used for Halloween.

Halloween Safety
You can attached one or more light sticks to a Halloween costume as a safety device, making the wearer more noticeable at night. Glow bracelets and necklaces can also be worn for added safety.

Halloween Prop Lighting
When only a small amount of light is needed or desired, they can be used to illuminate a Halloween decoration or prop from within or behind it. Example, you can place a glow stick behind a Halloween tombstone to create a spooky glow. Just remember that they don't produce a lot of light, so they should be used in low light area's.

Pumpkin Light
You can use a light stick to light the inside of a Jack O' Lantern. Just remember that they do not flicker like a candle, nor do most of them produce as much light. These are a safe way to light artificial foam and plastic pumpkins as well. If you want to use a non heat producing light in a Jack O' Lantern that flickers like a real candle, use a battery powered Pumpkin Light.

Goblin Lights
Here's a special effect we can up with years ago. You attach a small glow stick to a string connected to a helium filled balloon and suspend it above your house. This effect looks really spooky. Click here to read the full article.

Glowing Liquids
Here is how we make a liquid glow in our mad scientist laboratory. In the clear or translucent bottle that we want to glow, we drop in a glowing light stick. Next, we fill it almost to the top with water and if its a clear container, we add a little corn starch to make the water milky. We do this so that the actual light stick cannot be seen. Top off the container with water and cap. Shake the bottle to mix the water and corn starch and you have a bottle of glowing liquid. We also used this to create a bottle and syringe of "Re-Animation" reagent in our Herbert West costume article.