MAIN CONTENTS

Featured Articles
The latest Halloween articles from the staff of Halloween Online.
Halloween Costumes
Halloween Costumes, Halloween Masks and Makeup ideas.
Halloween Decorations
Halloween decorations you can make or buy for the spookiest night.
Halloween Recipes
Our cookbook filled with Halloween recipes, tasty tricks and treats.
Halloween Games
Spooky Halloween games adaptable for both kid's and adults.
Halloween Party
Halloween Party planning and ideas for your festivities.
Halloween Safety
Safety information, tips and suggestions for a safe Halloween.
101 Halloween Tips
That's right, 101 great Halloween tips, ideas and suggestions!
Halloween Props
Spooky Special Effects and Props for your Halloween haunt.
Pumpkin Carving
Pumpkin carving tips for carving your Halloween Jack O' Lanterns.
Movies & Music
Suggestions for the best Halloween music and Halloween movies.
Halloween Crafts
Halloween craft ideas and instructions for lots of Halloween fun.
High-Tech Halloween
Ghostly gadgets for your computer, cell-phone, Palm Pilot and more!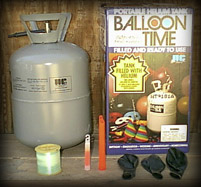 Goblin Lights, as we call them, produce a very eerie effect that we first used in the late eighties for one of our outdoor Halloween parties. Looking up, our visitors could see strange glowing lights bobbing gently in the night sky with no apparent means of support. This effect is simple and really gets attention!
We usually put up six or eight Goblin Lights at slightly different heights above our yard and house. All you need are some Light Sticks, 16" black colored balloons, helium and light weight fishing line.
Light sticks are fairly light-weight, but compared to the weak lifting power of helium every gram of weight makes a difference. Generally, one 16" balloon filled with helium will lift one of the small four inch light sticks, but to lift one of the larger ones you'll either need a balloon with a capacity twice that of a 16" balloon or two 16" balloons tied together.
Compare the two light sticks on the right. The small one is found just about everywhere during the Halloween season and weighs only 9.4 grams. The larger one on the right is a more powerful, 30 minute light stick that produces a very bright orange light, but weighs 21.2 grams, more than twice as much as the smaller one. This means you need more than twice as much helium to lift it.
Helium for your balloons can be bought in disposable tanks or you can have the balloons filled at a local party shop. We begin by filling a black 16" balloon with helium and tying it off. Then we securely tie one end of some very light-weight fishing line to the balloon.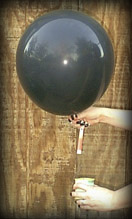 After letting out about twelve feet of line from the balloon, we tie a light stick to the fishing line at this point. The distance between the balloon and light stick helps to keep the illumination from the light stick from reflecting off of the surface of the balloon and giving away the secret.
Just before we are ready to launch the balloon, we snap the light stick and give it a good shake to activate it. Now we let out the line allowing the balloon, with it's cargo to raise into the night sky. When it's at the desired height, we like between fifty and a hundred feet, we cut the line from the spool and tie it off to something stronger than the pull of the balloon.
Obviously this effect will only work at night, preferable with little or no moonlight showing. Wind can be a real problem and can push the balloon away and down towards the ground, preventing the balloon from raising straight up. Since Cyalume sticks come in different colors and intensities you can mix-and-match to create a great Halloween special effect.

Update - You can now buy balloons that contain a very small battery powered LED light inside. These typically have three modes, slow blink, fast blink, and constant on, and stay lit for up to ten hours. Filled with helium and tethered via fishing line, the balloon will float over your house just about all night long. Plus, the balloons are available in orange. While this looks different from our Goblin Lights above, it is a really cool looking effect! Check your local party supply store for this type of balloon.