| | | |
| --- | --- | --- |
| --- | HERBERT WEST - REANIMATOR | --- |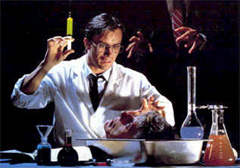 Herbert West was one of writer H. P. Lovecraft's most memorable characters, beginning in his short story "Herbert West - Reanimator". While attending Miskatonic University, he became obsessed with the idea of overcoming death through science, and developed a special reagent that he injected into the bodies of the recently deceased, causing the body to return to life. Well sort of, the reanimated bodies possessed only basic intelligence and were very violent in nature.
The 1985 Re-Animator movie starring Jeffrey Combs as Herbert West is definitely a cult classic, along with its two sequels, Bride of Re-Animator and Beyond Re-Animator. We highly recommend the "Reanimator" movies, but be warned, they are quite gory.
Herbert West has a very good head on his shoulders
and another one in a dish on his desk!
Putting together your own Herbert West Halloween costume is pretty easy and anyone familiar with the character is sure to be impressed.
Lab Coat and Clothing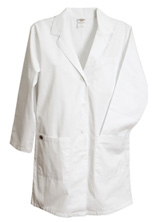 A lab coat instantly associates the wearer with the medical or science industry. Lab coats can be purchased at your local medical supply store or online. They usually cost under twenty dollars.
Under the lab coat, Herbert usually wore a white, long sleeve dress shirt, a black tie and black trousers. You can blood stain the shirt and lab coat by...
Herbert wore rather plain glasses. If you don't wear glasses yourself, you can buy a pair of non-prescription costume glasses at a costume store. Add a costume stethoscope and you are all set.
Name Tag


Finally, you can have an inexpensive plastic name tag made at your local trophy or print shop that reads:
Herbert West - Miskatonic University
Reagent Syringe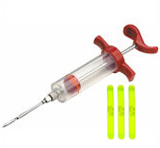 There are a few different fake costume syringes on the market, but we really didn't like any of them. We decided to use a "Marinade Injector" for our reanimation syringe. Marinade Injector's are used for injecting marinade sauce into meat and can be found in the cooking accessories section at most department stores. A mini (1.5") green glow stick will fit inside one of these to make it glow. Add a little bit of corn starch to turn the water translucent. Caution - Remove the injector needle! The needle on these are very sharp and could be a danger to you and others if left on. Again, remove it! Make a plastic ne using the spray end from a can of canned air.
Reagent Bottle
For the notorious bottle of reagent, we used a translucent plastic oval shaped travel bottle. These can be found in department and discount stores. To make it glow greenish-yellow like in the movie, bend a small (4") green glow stick just enough to start it glowing and drop it in the bottle. Fill the bottle with water and add around half a teaspoon of corn starch to make the water translucent. Be sure to screw the cap on tight enough so that it does not leak. You will want to carry a few extra of each size glow sticks with you just in case you need to recharge the bottle or syringe.
Doctors Bag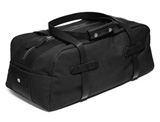 While most can not afford a real leather Doctor's bag, there are a few more economical bags that will work just fine. First, you can search at your local thrift stores for a black leather satchel. If you cannot find one, then an inexpensive nylon or simulated leather carry-on bag will do. Just make sure that the bag is large enough to accommodate a severed head...
Severed Head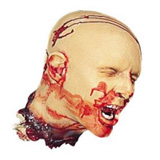 Being a reanimator means more than wearing a lab coat. You will probably develop a deranged desire to carry a severed head around with you in your doctor's bag. After all, you'll want to show off your handy work on Halloween night.
Life size severed head props like the one shown to the right can be found at most Halloween stores or online. This one is made from foam filled latex and cost around thirty-five dollars.