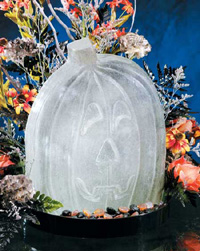 A spooky ice sculpture can add a classy ambience to your Halloween table or punch bowl! They are easy to make and versatile to work with! You can add them to so many things that will really add that "WOW" factor to your party punch bowl or food table display.
You can use many things as molds to make your sculpture, such as a decorative cake pan for a tombstone, skull or bat to make an ice sculpture centerpiece. Brain, heart and other body part gelatin molds make great molds for ice to add to your punch bowl. You can also use clear plastic food grade gloves to make hand molds to float in your punch bowl.
Once you decide on the type of ice sculpture mold you are going to use you need to determine how much water to use in it. Remember, water expands when it freezes, so you do not want to fill the mold completely. If using a solid aluminum type pan, leave about 10% at the top for water expansion. If you are using a plastic or rubber mold, leave a bit more because these tend to expand out and down if they can't go up which will give you a misshapen mold. Also, when using a plastic or rubber mold, make sure that you have a stable surface to set it on in the freezer, like a cookie sheet, so that it will hold it's form. Soft rubber molds are the hardest to work with because you have to make sure that they are completely stable. You may have to rig up a form to set the form in so the shape will remain true.
SPECIAL EFFECTS
You can add a small amount of liquid food color to the water if you'd like it to have a tint to it. Use orange for a Jack-O-Lantern mold, like the one above. You can use diluted food color to color the eyes, nose and mouth after it hardens. Skull molds are simple because you need not color it before you freeze, just use a diluted black food color for the face definition after it's hardened. For a heat or other body parts, use varying shades of red or pink and do any detail coloring after it's hardened. Or you can just leave it plan and not add any color to it. Instead, use a back light sitting behind the display, out of the way of melting water, to light it. Place a Pumpkin Light behind the ice sculpture for a great special effect! They are battery powered which is much safer to use then electric light.
IMPORTANT TIPS: Always remember, if you are going to use your ice sculpture in a punch bowl it's best to use some of the punch itself to make the mold. That way you can keep the punch plenty cold and not dilute it with plain water. Also, make sure that if you are using it as a centerpiece only, it is in a bowl or tub deep enough to hold all of the water that will build up as is slowly melts or you'll have a huge mess on your hands!

Pumpkin Ice Sculpture Mold
Reusable ice sculpture and gelatin dessert molds are wonderful for table decorations and centerpieces. Approximately 11"x14"x3" in size. Available from SculpturesInIce.com. Use red and yellow food color in the water for an orange tinted pumpkin ice sculpture. Or, you can freeze orange flavored Kool-Aid or other orange colored beverage if it's going to be displayed in the punch bowl so it doesn't dilute the punch.
Coffin Cake Pan
The only coffin shaped cake pan we could find is made by Pantastic. These are white plastic pans that you can use in a regular oven! The coffin shaped pan measures 7" x 13" x 1-3/4". Use red food color in the water for a red tinted coffin ice sculpture or any color you choose to match your party theme.
These two types of molds are better for stand up displays like the one above. You'll need to find a plastic tub or deep bowl to stand it in, center it and fill with colored glass pieces designed for floral arranging. Add dried or silk flowers, branches and such to finish the display.
Skull Mold
Meant as a cake pan, this works well for a small skull ice sculpture. It measures 15 1/2" x 2 1/2" x 5 3/4". These are perfect for using in a large punch bowl. If you can find the small molds for baking little cakes that have six skulls to a tray, you can freeze up a couple batches of them and have more to put in as they melt. Use juice, punch or soda to make them so they won't dilute the punch.
Hand Mold
You can pick up boxes for clear plastic food handlers gloves at restaurant supply stores to make hand shaped molds for your punch. Get the largest size they carry so you have room to work with. Just fill the glove, leaving space fir expansion, tie off the end of the glove and lay on a cookie sheet to freeze. use green food color or juice. If you are having, say, an orange or green punch, use the opposite color for the hands. You can also use sherbet to fill them. Let it sit out and thaw a bit so it's pliable and can be pushed into the fingers of the gloves, close the ends and re-freeze. It will give your punch an added flavor and looks cool when it melts.
How to Display
Be sure and keep it frozen until use! To remove, run pan side under cool water to release the ice mold. If you plan to use it up-right as a center piece, make sure that you have something underneath to catch the water as it melts and keep the light away from any dripping water!
For added drama and longer life of the ice molds, set them securely on a block of ice, which can be purchased at most places that sell ice. Use an inexpensive plastic tub that can be found at mass market retailers in their Halloween decor and tableware to use a s a display holder. They have lots of room to catch the melting ice although you may want to check it in case it needs to be drained during the party. The last thing you want is to have a nice table ruined with water stains. Place a folded towel under the tub to insulate the table top from the intense cold.