GELATIN BODY PARTS
Whether you want a very special treat for Halloween night or you happen to be the Addams Family, you can't beat this for the ultimate in ghoulish dining. These plastic molds, available separately, come in human brain, heart and hand shapes that are easy to make and look very realistic! They make horribly wonderful entrees or can be used as part of some gruesome Halloween decoration or prop.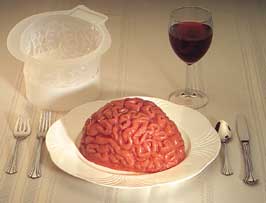 DIRECTIONS
The molds come with detailed instructions which are very simple to follow. Since the plastic mold will be used for making an editable food product, you need to thoroughly wash it out with warm, soapy water to ensure that it is clean. Next you need to make sure that the mold is completely dry before applying the oil.
Now spray or smear a small amount of vegetable oil (about 2 teaspoons) inside the entire cavity of the plastic mold. Once you are sure that every part of the interior is coated wipe out the excess oil from the cavity and set the mold aside.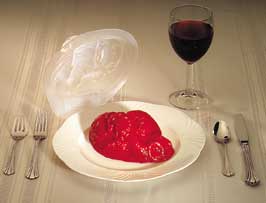 Mix the gelatin recipe as directed in the instructions that came with your particular mold and slowly pour the mixture into the plastic mold.
Place the mold in the refrigerator over night to allow the gelatin mixture to setup.
Remove the mold from the refrigerator and shake as directed in the instructions until the gelatin brain loosens and slips out of the mold.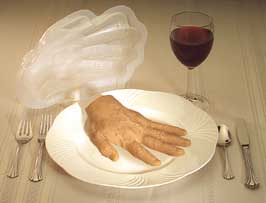 Since the gelatin-mold mixture contains a dairy product, if it is not going to be eaten within a short time, it should be stored, wrapped in plastic wrap, in the refrigerator.
The gelatin body parts can be served on plates or serving platters.
Final touches for displaying this ghoulish food would include making some fake-editable blood by mixing a small amount of red food color with "Light Karo Syrup" and pouring it on the plate around the gelatin brain, heart or hand.
The Body Parts Gelatin Molds are available to purchase from the Anatomical Chart Company.