MAIN CONTENTS

Featured Articles
The latest Halloween articles from the staff of Halloween Online.
Halloween Costumes
Halloween Costumes, Halloween Masks and Makeup ideas.
Halloween Decorations
Halloween decorations you can make or buy for the spookiest night.
Halloween Recipes
Our cookbook filled with Halloween recipes, tasty tricks and treats.
Halloween Games
Spooky Halloween games adaptable for both kid's and adults.
Halloween Party
Halloween Party planning and ideas for your festivities.
Halloween Safety
Safety information, tips and suggestions for a safe Halloween.
101 Halloween Tips
That's right, 101 great Halloween tips, ideas and suggestions!
Halloween Props
Spooky Special Effects and Props for your Halloween haunt.
Pumpkin Carving
Pumpkin carving tips for carving your Halloween Jack O' Lanterns.
Movies & Music
Suggestions for the best Halloween music and Halloween movies.
Halloween Crafts
Halloween craft ideas and instructions for lots of Halloween fun.
High-Tech Halloween
Ghostly gadgets for your computer, cell-phone, Palm Pilot and more!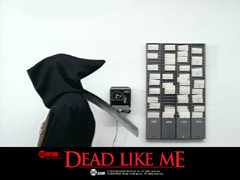 Georgia "George" Lass (Ellen Muth) is an 18-year-old college dropout who has no job skills and seems unable to take an interest in anything, including her own life. She projects an air of cynicism that infuriates her mother, baffles her father, and intimidates her younger sister.

When her mother, Joy (Cynthia Stevenson), insists that George get a job, she applies to a temp agency that sends her out as a file clerk. Her lunch break — and her life — are cut short when a toilet seat from the Mir space station drives her into the pavement.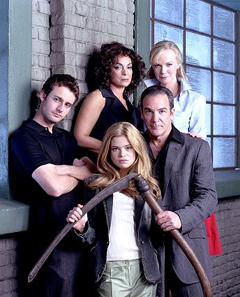 George does not realize that she is dead until Rube (Mandy Patinkin), the kindly leader of a team of "grim reapers," points out her remains. Rube takes George under his wing and introduces her to the other members of his undead group: Mason (Callum Blue), Roxy (Jasmine Guy) and Daisy (Laura Harris). In addition, Rube explains to George that in order for her soul to move on to its next level, she has a quota of souls she must help remove from those on Earth who are about to die.

The members of Rube's team of reapers are all, like George, people who died with unresolved issues. They still have lessons to learn that — for one reason or another — they failed to learn in life. They move about the Pacific Northwest in the full light of day. They walk the city streets and eat at all-night diners, just like anyone else. They have to find their own places to live, cook, eat and do their laundry. They look just like everyone else, but as "un-dead" grim reapers they appear physically different to the living than they did when they were alive.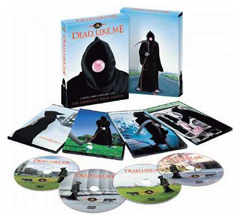 Dead Like Me revolves around George's adventures as she comes into contact with an eclectic group of people who are about to meet their maker, and as she learns to interact with her fellow reapers, with Rube, and with her new/old boss, Dolores Herbig. She also looks in on her grieving family and must cope with how things continue to change without her. All of these interactions lead her to ask: What if death is not the end? What if it is not even an escape, but an opportunity to accept responsibility? … What if death is a wake-up call?
Just watching this show makes you want to dress as a Grim Reaper for Halloween!
The "Dead Like Me" pilot premiered on June 27, 2003 and the final episode aired on October 31, 2004. In spite of its large fan base and very high ratings, the show was unexpectedly cancelled by Showtime. We watch this series even October as part of our Halloween viewing. Both seasons are currently available on DVD.