| | | |
| --- | --- | --- |
| --- | DEAD LIKE ME - EPISODE GUIDE | --- |
DEAD LIKE ME - SEASON ONE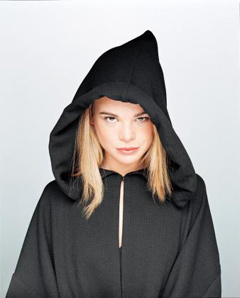 "Pilot"
When 18-year-old temp worker Georgia "George" Lass is struck and killed by a toilet seat from the re-entry of the Russian Mir space station, her new status as a "grim reaper" leads to some surprising revelations about her life — and her "un-dead" afterlife.
"Dead Girl Walking"
After trying to shirk her new grim reaper responsibilities, George discovers that doing so leads to nasty consequences for the souls of the dead. She also attempts to get a real job by once again darkening the doorway of the Happy Time Temporary Employment Agency.
"Curious George"
George discovers the price that the dead pay when they try to hang on to their past after their time is up.
"Reapercussions"
A loophole in the "reaper rules" inspires George to spare her next reap's life. She quickly learns, however, that if she messes with Fate, its revenge will be quick and ten times worse than she expected.
"Reaping Havoc"
Even the undead need friends, but George loses one when a fellow reaper decides to jump to the "other side."
"My Room"
George meets her new roommate, Daisy Adair, a glamorous but annoying 1930s ingenue-turned-reaper who has joined Rube's group.
"Reaper Madness"
Love comes to George's un-life when she gets her first post-mortem kiss — from a doomed schizophrenic who can see the gravelings.
"A Cook"
George gets a pet and Rube takes a shift on the grill at Der Waffle Haus.
"Sunday Mornings"
Roxy's rash actions cause an obnoxious lout to find religion; George makes a new friend and discovers that her dad is not the person she thought he was.
"Business Unfinished"
Daisy enlists George's help in fleecing a wealthy society matron's son, and Roxy faces her annual struggle to come to terms with her death.
"The Bicycle Thief"
Needing money to buy a bicycle, George gets a new job — and an awkward farewell party at Happy Time — while her fellow reapers face their own complications.
"Nighthawks"
George panics when Rube is assigned to claim a soul at her family's home.
"Vacation"
Death takes a holiday … and the reapers use the break to catch up on some paperwork.
"Rest in Peace"
While George tries to get her old job back, her family prepares to visit her grave.
DEAD LIKE ME - SEASON TWO
"Send in the Clown"
At her day job, George gets to train the boss's cute but dumb nephew; Mason dresses as a clown to reap a soul at a child's birthday party.
"The Ledger"
George figures that with all the bad luck she had while she was alive, things might even out in the afterlife. Alas for Miss Lass, death doesn't work that way.
"Ghost Story"
In an attempt to bond with her coworkers, George goes on the annual Happy Time retreat, but even in the woods she can't escape her duties as a grim reaper.
"The Shallow End"
George reflects on her childhood and decides that the secret to being popular is to behave cruelly to people.
"Hurry"
Deadlines loom large as the reapers snatch some hurried souls and George helps Dolores impress an efficiency expert studying Happy Time's operations.
"In Escrow"
Joy looks forward to a new life after accepting an offer on the family home; George faces her first big decision at Happy Time.
"Rites of Passage"
George experiences the power of celebrity death when she plucks the soul of a rock star.
"The Escape Artist"
Reggie makes friends with a young pet reaper, while George nearly falls for a reap.
"Be Still My Heart"
George reunites with her new love at his father's funeral.
"Death Defying"
After losing her virginity to Trip, George sours on romance when he doesn't call her afterward.
"Ashes to Ashes"
When George tries to pass herself off as the relative of a homeless man, she finds herself more involved in his death than she'd intended.
"Forget Me Not"
Ray and Mason fight for Daisy's affection, and George must persuade an old lady that she has really died.
"Last Call"
George regrets the things she didn't accomplish in her life, while Mason prepares to move on in the afterlife. Meanwhile, Reggie stays home alone.
"Always"
Rube and George both come face-to-face with their past lives.
"Haunted"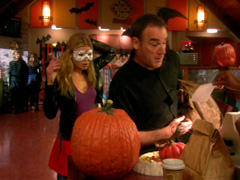 Halloween is a busy day for the Reapers as a serial killer stalks a neighbourhood.
Plus, reaper legend has it that reapers can be seen as they were when they were alive one this one day.
At the end, Joy and Reggie pay a late night visit to George's grave, and so does George.
DEAD LIKE ME - DIRECT TO DVD MOVIE
Read our opinion of this made-for-dvd "Dead Like Me" movie.