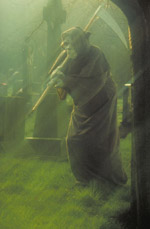 No other supernatural creature is more associated with death than the Grim Reaper. Whether its a mythical creature or a real entity, the Grim Reaper is the ultimate personification of death itself.
Whether this mysterious being actually takes life from the living or simply arrives on the scene to escort departing souls to the other side is unknown, either way its still a frightening prospect that you might encounter him.
Visually, this foreboding figure is best known for having a skeleton like body that carries a large scythe (pronounced "sigh-the") or sometimes a sickle, and always wears a pitch black hooded robe with all but his skeletal face and hands shrouded inside.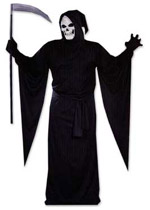 Grim Reaper Robe Costume
A Grim Reaper costume is usually made up from just four elements, a skeleton mask, black hooded robe, skeleton gloves and either a scythe or sickle. The Grim Reaper costume shown to the right has a long, black hooded robe with elongated sleeves. Just add a skeleton mask and you can become the Grim Reaper for Halloween night.
If you don't want to wear a mask, you can also use makeup to create a skeleton look on your face using just white and black face paint. By the way, just because the Grim Reaper is usually thought of as being male doesn't mean that the gals can't assume the role of death.
Bobble Head Grim Reaper Costume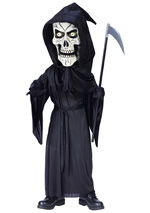 Here's a new Grim Reaper costume for Halloween 2011! The Bobble Head Grim Reaper really stands out in a crowd with its oversized foam head and big bobbling eyes! The head measures approximately fourteen inches long by six inches deep.
This great costume set also includes a full black robe with long draped sleeves, and oversized hood with collar, black gloves and a hanging waist belt. The oversized, giant head has bobble eyes and an interior elastic head support.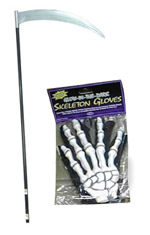 Grim Reaper Costume Accessories
Skeleton Gloves Glow in the Dark Skeleton Gloves are adult black cotton gloves with latex skeleton fingers that glow in the dark. They go well with any Grim Reaper Costume or a Skeleton Costume.

Lastly, a sickle will be the accessory to carry. The unique idea of this 4-piece set is that is has the silver sickle in a hard plastic. The best part is that is comes with 3 different size handles.