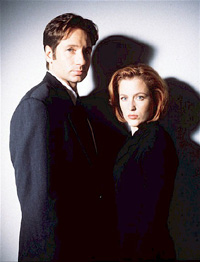 The popularity of the X-Files in the nineties and even today is undeniable. It was a unique and ground-breaking television series in which FBI agents Fox Mulder and Dana Scully investigated unsolved cases involving paranormal phenomena, dubbed the "X-Files". Mulder and Scully investigated uniquely bizarre cases without long-term implications on the storyline.
You might be surprised, but putting together X-Files themed costumes is not much more expensive than buying high quality Halloween costumes.
Make-up and hair are equally simple. With the theatrical release of the new "X-Files: I Want To Believe" film, Mulder and Scully will be popular once again and make a great couples Halloween costumes for the right couple.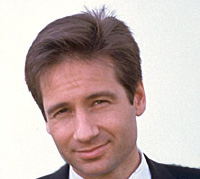 Fox Mulder
Agent Mulder usually wore a black business suit with a white shirt underneath. During cold weather he would often wear a black or tan trench coat over the top of his suit. His ties tended to be
Mulder's hair style was a semi-short business cut, parted on the side. Just run some mousse through damp hair and style it like the picture on the right. If your hair is a lighter color you always can use a temporary hair dye to darken it for Halloween night.
Dana Scully
During the course of the X-Files series, Scully's hair color ranged from strawberry-blonde to auburn red, but is probably most remembered for having red or auburn colored hair. You have several choices here. You can dye you hair the exact color you want, but most likely you will want to either use orange hair spray or wear a red wig. Scully's make-up is fairly simple. A light peach colored eye shadow, mascara, a peach blush and a peach/pink lipstick. Since Scully is a red head, peaches work quite well on her.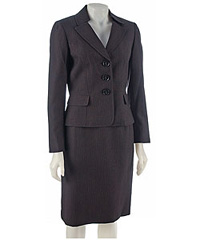 Dana almost always wore a small, plain gold cross necklace, with a fine chain, that had been given to her by her mother. These can be found at discount or religious stores.
Special Agent Scully is best remembered for wearing a woman's black skirt business suit. The suit we choose for our Halloween costume has a straight skirt that hits the knee. It has front and back dart shaping and a center back walking slit. The jacket features a notched collar, and front and back dart seams. We found this skirt suit set on sale for only $60.00. Under the jacket, a simple white blouse should be worn. Black, low heeled dress shoes.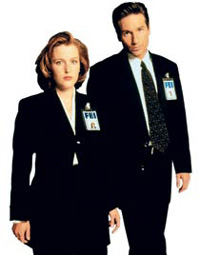 FBI Identification Name Badges
We have created a set of printable "simulated" FBI type badges that you can easily adapt with your own pictures. All you have to do is replace the pictures of Mulder and Scully with images of yourself and partner. You can either scan a photograph of yourself on a scanner or use a digital picture. Crop the image in your picture editing software and then import it into this MS Word document and place it over the current images. You may need to play with the size to get them to over properly. Print out the modified document on your printer, preferably with gloss photo paper and cut out the badges along the black lines. Right click here to download the MS Word document containing the printable badges.
Tip - Left click to view the document or Right click and select "Save Target As" to download it.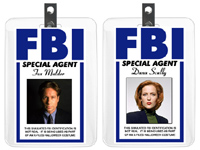 These are designed to fit inside standard 3-1/2" by 2-3/4" plastic name badge holders (available at most office supply stores). Once you have cut them out, simply slide them into your clip-on badges. Clip the badges to the lapels of your trench coats. Note - These badges are for use as part of a Halloween costume only! It is against federal law to impersonate an FBI agent or any other law enforcement officer and could result in your being arrested and charged if used to impersonate one.
Pocket flashlights and cell phones for both. We recorded the X-Files theme onto a digital recorder. I kept it in my coat pocket and played it anytime we entered a room.