| | | |
| --- | --- | --- |
| --- | HALLOWEEN WIGS & HAIR COLOR | --- |
As part of your Halloween costume you may need to change the color and style of your hair. Doing so can add that extra something to your total Halloween look. Whether you are a vampire, witch or Elvira, Mistress of the Dark, the most common Halloween hair color is black.
The two easiest methods to change your hair color for a short period of time are to either wear a wig or use temporary hair color. Below are some tips to help you make a decision as to which will suit your Halloween costume needs the best.
Halloween Wigs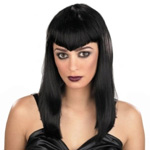 A wig can change the whole look of your costume and Halloween persona. They come in a multitude of styles and colors to fit every need. You can change the length, style and color using a wig, transforming yourself into a completely different person for a single night.
Maybe you are dressing as Morticia Addams this Halloween and need long, straight black hair. Or you may want a little something more vampire-like. Have short hair and need it long or the other way around? A wig can solve the problem!
However, since most wigs sold for use as part of a Halloween costume are usually expected to be worn just once, they tend to be cheaply made and often don't fit or look very good. The old adage that "you get what you pay for", certainly applies here. If you decide to use a wig as part of your Halloween costume, buy the best one you can afford. We highly recommend that you wear a "wig cap" underneath your wig. It will keep you own hair in place and make it easier to put the wig on.
Styling a Costume Wig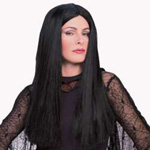 Don't expect a costume wig to look how you want it to straight out of the package. Some styling of the wig will probably be necessary for the particular look you want. The first step is to place your wig on a Styrofoam wig stand, these can be purchased at your local beauty supply store for only a few dollars.
Next you will want to use a soft brush and comb to carefully shape the wig's hair into the style that you want. This may also require rollers, cutting or reshaping the wig. Once you have the look, use hair spray to set the style.
Storing a Costume Wig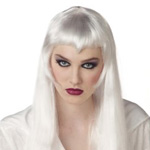 Keeping your wigs on Styrofoam wig stands is the preferred method for storing your wigs. Keep them in a cool, dry place out of the sun, and away from humidity and dust. If you'll be storing them for any length of time between uses, spray them with a light coat of revitalizing treatment so the wig fibers will have a protective shield on them.
If you must store your wigs in boxes, be sure to place a soft round object inside the crown of the wig to prevent the wig from getting smashed inside the box. A fresh, rolled-up pair of tube socks will work. You may also use a small "air pocket," a small plastic bag filled with air, sold by packing supply companies. Or blow up a zip-lock bag.
Cleaning a Costume Wig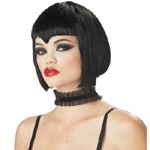 You can clean a costume wig using a specially formulated wig shampoo to wash and clean your wigs. The ingredients in regular shampoo may contain harsh detergents that will strip away some of the color and beauty of the wig fibers. Almost all synthetic and human hair wigs are color-treated, so it is best to use a shampoo that is designed to be used on the specific type of wig that you have. The same goes with hair sprays.
Use only specially formulated wig sprays on wigs. You can purchase a wig treatment kit from Awesome Wigs that contains a full size bottle of wig shampoo, wig spray, and wig conditioning treatment for only $30 with your wig order or $40 if you are not ordering any wigs.
Temporary Hair Color
We have found that temporary hair color, when used properly, will usually look better than wearing a cheap wig. But your real hair will need to be the length and the general style that you are looking for in your Halloween persona.
Temporary hair color works by a process of coating the hair shaft, rather than penetrating it. Generally, you can remove the coating of hair color by simply shampooing you hair. In addition to being temporary, another advantage for using this type of hair coloring over semi-permanent and permanent dyes, is that they do not use harsh chemicals such as ammonia or peroxide to make the color change. Temporary hair color is available in a variety of application including sprays, rinses and gels. If you have blonde hair, you should do a strand test before using any type of hair color just to make sure that it will not stain or damage your hair.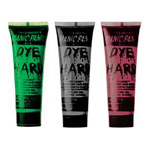 Manic Panic DYEHARD - This thick opaque temporary hair color styling "gel" is available in easy to use squeeze tubes and comes in eleven colors. This hard holding formula may be used for styling as well as coloring. Just place gel on fingertips and apply to hair.
It dries hard and holds hair in place. The gel can be used for spiking, tipping, adding a streak, dash or splash of color or coloring an entire head. The non-staining formula will shampoo right out of your hair with ease.

Jerome Russell's Temp'ry Natural Color Highlights "True Black" is a spray-on product that can be used to cover your current hair color with fairly natural looking results. It dries almost instantly, producing a consistent color and shine with no damage to the hair. These come in natural shades, as well as theatrical, for that simple touch of color or a complete change to compliment a costume. Washes out with shampoo. Just spray on in short bursts from approximately twelve inches away.
Permanent Hair Dye
Unless you are willing to make a long term commitment you should not use a permanent hair color. Permanent hair color is just that, permanent. Although it can be removed through stripping or bleaching, which is extremely hard on hair, you should think long and hard about changing your natural hair color unless you plan on staying that way long after Halloween is past.