Halloween and celebrations for the dead have been going on for thousands of years under many names and many religions. Today's Halloween celebration in the U.S. is a throw back to the old Celtic holiday of Samhain (sow-wain) that was brought over with the Irish immigrants many years ago.
There is a celebration that our neighbors to the South have been holding for just as long. It's a celebration to honor their family members that have passed and it's called "Día de Muertos" or "Day of the Dead". Mexico celebrates a yearly tradition called Day of the Dead during the last days of October through November 2nd.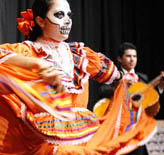 Basically, it was started when the Roman Catholic Church imposed a ritual to commemorate All Souls' Day, which is observed in many countries today. This custom was established by pre-colonial Mexican civilizations mixing indigenous beliefs with Catholic beliefs brought to them by the Spanish. While the Roman Catholic ceremonies were more subdued and mournful, the Day of the Dead in Mexico is a happy and very colorful celebration where death is thought of as a happy celebration to honor loved ones. In early times, the indigenous people believed that souls did not die, that they continued living in Mictlan, a special place to rest. They rested there until the day they could return to their homes to visit their loved ones. This holiday was celebrated between July and August until the arrival of the Spaniards who changed the festival dates to November 2nd to coincide with All Souls' Day of the Catholic Church.
In present days, two celebrations honoring the memory of loved ones. One takes place on November 1st, honoring the souls of children, using special designs on the altars and white flowers and candles. On November 2nd the souls of the adults are remembered with a variety of rituals, according to the different states of the Mexican republic. These are very colorful celebrations with lots of flowers, brilliantly colored alters and brightly decorated Sugar Skulls, like the ones to the left.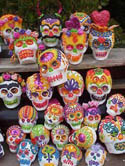 You don't have to be Hispanic to have a Dia de Muertos celebration for Halloween. Base the party on bright colors, skeletons of all kinds dressed in colorful outfits, make sugar skulls and decorate them. You'll find a recipe here. These are made for decorative purposes and not intended to be eaten, so make sure that you pack them away well to use year after year because they do deteriorate easily.
You can make a lot of the decorations yourself or find them on line for purchase. There are a number of online stores that sell al types of decorations from skull piñatas to everything you need to make sugar skulls or buy them pre-made. Also check out our article on making Skull cakes.
Make papier-mâché skulls and skeletons. Have everyone wear a skeleton costume, like the Totally Skelebones costume or similar skeleton costume. Have lots of bright bouquets of flowers all around. The brighter the colors, the better!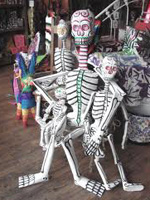 Here's an example of some pre-made skeletons that are available for purchase online. We found a company that makes nothing but sugar skulls, molds, paints and the ingredients for them all in one shop!
If a skeleton costume is not to your liking, dress in colorful Mexican garb and paint your face to look like a skull, like the dancer above. Make an alter and place pictures of your deceased loved ones on it along with gifts for them such as sweet treats and things that they might like in the afterworld. The main goal is to not only make this a Halloween party but also to have it truly be a Day of the Dead party, give it some meaning and remember those we loved that are now gone and show them how much we miss them by giving them a great celebration!