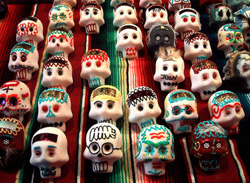 These are great for the Hispanic festival Día de los Muertos or Day of the Dead. It's a Mexican holiday, celebrated in Mexico, on November 1st and 2nd. It is done in connection with the Catholic holidays of All Saints' Day (November 1) and All Souls' Day (November 2), two holidays that originally sprouted from Samhain (Sow-Wain), the Pagan Celtic festival held for New Year, when the Catholic church was trying to convert the Pagans to Christianity. Traditions connected with the holiday include building private altars honoring the deceased using sugar skulls, marigolds, and the favorite foods and beverages of the departed and visiting graves with these as gifts.
Our county now has high Hispanic population and, as with other traditions like Halloween which was brought here by the Irish, "Día de los Muertos" is being celebrated here, too. Usually in small family groups or neighborhood parties, Mexican Americans will make these sugar skull and brightly decorate them, not for eating but for decoration.
The decorations for Día de los Muertos are very colorful and full of skulls, skeletons and lots of sweets. We've seen some of the most beautifully decorated sugar skulls at a friends in Los Angeles, California when we went for his party. It's a nice way to honor the dead and a beautiful way to extend our Halloween spirit!
!!!THESE SUGAR SKULLS ARE FOR DECORATIVE PURPOSES ONLY!!!
!!!THEY ARE NOT TO BE EATEN!!
What You'll Need To Make Sugar Skulls:
Ingredients:
Clear Plastic Skull Molds - 6" x 6" for large skulls. 3" x 4" for medium and mini skulls
Granulated sugar
Powdered sugar
Meringue powder (Ateco or other gourmet brand)
IMPORTANT INFO!! The right Meringue Powder is very important!! Don't use the same kind of meringue powder that you would use for icing to make the sugar skulls!! The type that you'll find in cake supply and craft shops has usually been cut with inert ingredients that make it suitable for use making icing only. It's not good for use with heavy granulated sugar because it will cause your skulls to crumble and not hold together properly. Look for a gourmet brand like "Ateco Brand Meringue Powder", which can be found at gourmet stores online and off.
Utensils Needed:
Large metal bowl
Measuring spoons
1 cup liquid measuring cup
1/4 cup dry measuring cup
1 teaspoon measuring spoon
Plastic spray bottle (to keep mixture moist, if needed)
Electric mixer (for making Royal Icing)
Plastic cups (for mixing icing colors)
Toothpicks or Craft Sticks (for mixing paste food color into icing)
6" x 6" coated cardboard squares (to dry skulls on)
Disposable Pastry Bags & Tips
Quart Sized Zip Top Bags (to use in place of pastry bags)
Paper towels
Making White Sugar Skulls
This is kind of a "mix to make" recipe.
You'll need to use 1 teaspoon of Meringue Powder for every 1 cup of sugar that you use. You'll use 1 teaspoon of water for every 1 cup of sugar used. So, let's start with a 5 pound bag of sugar batch. This should make 5 large skulls or 20 small skulls.
1 - 5lb bag of Sugar
1/4 cup of Meringue Powder
10 teaspoons of Water
First, mix the sugar and meringue powder together well. You can do this by using a large spoon or by hand. You can also use a hand mixer but doing it by hand gives you a better feel of the mixture.
When this mixture is blended thoroughly, start adding the water a teaspoon at a time and mix in with hands. When all the water is mixed in, it should have the consistency of thick, wet sand and should hold together when squeezed in the hand.
Pack sugar mixture into molds, making sure to keep kneading the mixture often as the water will try to settle to the bottom of the mixture, making it dry. You want it to hold together in your hand as you press it into the mold, if it doesn't then the mix is too dry and you'll either need to knead it again to distribute the water or add a few drops of water at a time until it's just wet enough.. Make sure that you firmly press into molds, you can use a spoon for extra pressure.
Pay special attention to any indentations in the mold, like eyes, chin or designs. The tighter you pack it, the more detailed it will be and the better it will hold together. Use a straight edge of some kind to scrape over the back of the mold to flatten it.
Immediately invert onto a 6"x 6"cardboard square and remove the mold by lifting it up. If a skull crumbles, it's too dry. If it doesn't come out easily, it's too wet. You can throw any ruined skulls back in to the mixture, knead some more and use it again.
Let the finished skulls sit for at least 10 hours, preferably over night, to dry.
For Decorating:
Royal Icing
Royal icing is a smooth, hard-drying icing that's perfect for decorating sugar skulls. It is durable and will last much longer than most icing.
Ingredients:
3 Tablespoons Wilton Meringue Powder
4 cups confectioners' sugar (about 1lb.)
6 Tablespoons warm water
Paste Food Coloring in bright shades
Beat all ingredients until icing forms peaks (7-10 minutes at low speed with a heavy-duty mixer, 10-12 minutes at high speed with a hand-held mixer). This will make 3 cups of icing. For stiffer icing, use 1 tablespoon less water. Use paste food coloring, mix in the icing color of your choice. For Sugar Skulls, use the brightest colors that you can find.
ANOTHER IMPORTANT TIP:
If you are making the large sized two piece skulls, with a separate front and back you'll have to hollow each side out before you "glue" them together with Royal Icing. Use a metal spoon and scrape the inside down to about a 1" wall inside after they dry. Check these skulls after 6 hours to see if they are dry enough to handle but not completely dry. It makes scooping them out easer if they are still a bit damp. Don't scoop out the neck area because this is it's base and you'll want it thick. After you scoop them out, let them finish drying and then use a pastry bag filled with white royal icing as glue, running a thick line around the walls and sticking them together. Clean off any icing that may squeeze out the sides. Set the skull aside to let the icing dry, about 3 hours.


When all the skulls are dry, mix the royal icing, color and use disposable pastry bags and tips or quart sized zip bags with a small corner cut off to decorate. You can also add sequins, glitter, flowers, fake gems and just about anything else you'd like to decorate them. Remember, THESE ARE NOT EDIBLE!
We know the whole things sounds like a daunting task but once you've made them a couple times, you really get the feel for it and can know if the mixture is correctly mixed, wet and dry enough, etc. just by feel. If you pack them carefully, they can be used for a few years before they start to fall apart and then you can just make new ones! Store in a cardboard box, not plastic, because they have to be able to "breathe" while in storage.
Check out our recipe for creating Skull Cakes, too!