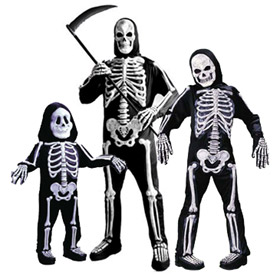 On Halloween night you can see skeletons hanging in windows, on porches, from trees, in fact, just about everywhere. Adults and children alike dress in skeleton costumes to scare each other, and why not, Halloween is the Festival of the Dead after all!
Unlike most skeleton costumes that have the skeleton figure simply painted onto the fabric, the Totally Skele-Bones costume has sculpted latex bones actually attached to the cloth costume, making them stand out three-dimensionally and look very realistic.
Plus, the skeleton parts of the costume are fluorescent, making them glow in the dark very eerily under black light. They come in sizes for the whole family, like you see to the right. The child size is adorable.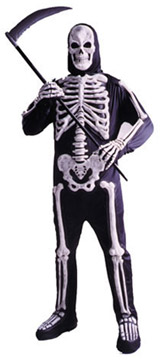 Its very strange, once you don the Totally Skele-Bones costume you instantly want to start dancing or running about, for some reason it makes you feel kind of wacky. This looks great from the spectators point of view as they watch skeletons dancing around or are chased by them. Needless to say, we really like this costume, because its both creepy and fun at the same time!
The six piece costume comes with everything you need including the main jumpsuit, a pair of gloves, a pair of boot tops, and full cover mask. They are available in adult, teen and child sizes.
Several of us, wearing Totally Skele-Bones skeleton costumes, conceal ourselves in dark areas just outside of the range of the black lights, with our backs turned in the direction that our Trick-or-Treaters will approach from. As trick or treaters move in, we turn to face them and step into the black light.
From the view of the trick or treaters, full size skeletons suddenly appear from no where to menace them. This costume also comes in day-glo pink, blue and yellow so you can have skeletons of all colors jumping out at people. It's a great costume to use for your home haunt!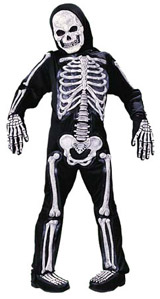 Another effect similar to the one above is to have three people wearing Totally Skele-Bones costumes, one standing behind the other. The skeleton in front is what your guests will see at first, but when they approach the other two skeletons step out right and left, giving the illusion that the original skeleton is splitting into additional skeletons.
For the ladies wearing a Totally Skele-bones costume, you can accessorize to enhance the overall look by adding a gray or bright colored wig, jewelry such as a skull necklace and bones bracelet, you can even wear a mini-skirt over it.
In our graveyard we have someone wearing a Totally Skele-Bones costume who lays down in a shallow grave. A black light is positioned to illuminate the grave area, but not into the grave its self. As our trick-or-treaters approach, the skeleton sits up and is illuminated by the fluorescent light. He then climbs up out of the grave to menace them. It's a simple but effective scare for your guests!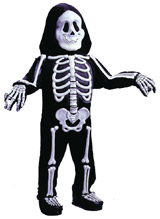 Skeletons are traditional decorations, but if you don't happen to have a real skeleton stored in the closet you can put the Totally Skele-Bones costume over a mannequin body and stand it in the window, or sit it behind the drivers seat of your car, or maybe put a noose around its neck and hang if from a tree.
We have a friend that holds a Halloween "Dead Man's" Party every year where all of his guests dress as skeletons. After seeing this cool costume, he and all his guests will be wearing the Totally Skele-Bones and he'll have plenty of black lights positioned around the party room to illuminate all those skeletons. Party On!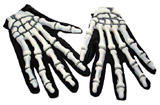 A Skeleton Band is an idea we will try out this coming Halloween. Three of us will dress in the Totally Skele-Bones costumes, add colorful, glow-in-the-dark wigs and top hats. Two of us will have guitars and the other will play the drums. We will pantomime as though we are playing the music, which will actually come from hidden speakers connected to a CD player that will play spooky music.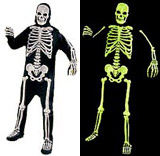 To transform yourself into a great looking Grim Reaper simply add a black cape, not a robe as it would cover most of the costume and a large scythe. Position the Grim Reaper in your graveyard and have him stand very still. As trick or treaters approach he can beckon them to their doom, or chase them deeper into your Halloween Haunt.
These costumes are great if you've built a transformation effect. You can have a normal looking person, corpse or whatever you want be slowly transformed into a skeleton, who then attacks the visitors. Available at finer Halloween costume stores.