Glow in the Dark Costumes and Masks
Halloween costumes and masks that have glow-in-the-dark or fluorescent properties make a great addition to your black light haunt. One of the best examples of this is the "Totally Skele-Bones" costume. This Halloween costume has very realistic looking sculpted bones that glow in the dark, which makes them perfect for use under black lights. Unlike most skeleton style costumes that have the skeletal figure simply painted onto the fabric, this costume has sculpted latex bones actually attached to the costume, making them really stand out and look very realistic. The "Ghost Face" Halloween mask from the "Scream" movies is also made in a glow-in-the-dark version.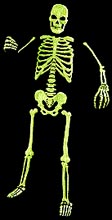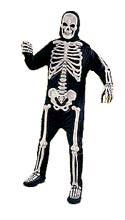 Costumes and masks that have glow-in-the-dark (fluorescent) properties make a great addition to your black light haunt.
The Totally Skele-Bones costume available from Fun World has very realistic looking sculpted bones that glow in the dark, which makes them perfect for use under black lights.
For more information on these great costumes and some spooky ways of using them see our Skele-bones article in the Makeup & Costumes section.
Glowing Tombstones


The Black Light Hair Spray made by Fun World sprayed over the front and side surfaces of a Halloween tombstone shows up very eerily under a black light. We found that spraying the tombstone in the dark with a black light turned on works best to get an even coating all over the tombstone. One can of the Black Light Hair Spray can usually paint between three and five tombstones depending on their size. You can also use glow-in-the-dark paint to make the epitaph's on a Halloween tombstone glow by painting over them or within them if they are embossed in the tombstone its self with transparent fluorescent paint. For more information on making and using Halloween Tombstones visit HalloweenTombstones.com
Black Light Ghost
Ghostly apparitions are always welcome visitors on Halloween night and the "Super Ghost" Halloween prop is a spooky phantom that will spook your guests and is a great addition to any Halloween haunt. This white ghost Halloween prop measures fifty inches tall and will glow bluish-white under a blacklight source. You can hang this ghost prop from the ceiling, your front porch, a tree limb or anywhere you want to display it. As an added effect, we hide a small oscillating fan a few feet behind the ghost to cause it to gently move in the air. If AC power is not available or practical were you want to place the ghost, you can use a battery powered fan just as easily.
Glowing Cob Webs


During the Halloween season you can now buy those bags of stringy cob-webs that are made for black light use and will glow brightly when exposed an ultraviolet light source. When used properly, these stretchable cob webs are inexpensive and can add a great effect to particular areas of your Halloween haunt. The effect can be greatly enhanced by using the cob web spinner to add light webs over and around the stretched out ones. Two people can do a much better job stretching this material out and attaching it to walls, doors, Halloween decorations and props. Just take your time when spinning your webs.
Black Light Drapes or Doorway Curtains
Here's a spooky effect that works great for a Halloween Haunted House. This effect replaces your regular window curtains with product called Creepy Cloth, that has been treated to glow under blacklight. For trick or treaters, place these on the outside of your windows. For a Halloween party or when you are inviting visitors into your home, hang them on the inside of your windows. Position black lights in such a way that the ultraviolet light is directed onto the treated curtains, but so that the black light units cannot be seen by your guests. As an added effect, a small oscillating fan can be placed behind the curtain to cause the them to gently move as if by some unknown and minicing force. Click here to read the full how-to article.