MAIN CONTENTS

Featured Articles
The latest Halloween articles from the staff of Halloween Online.
Halloween Costumes
Halloween Costumes, Halloween Masks and Makeup ideas.
Halloween Decorations
Halloween decorations you can make or buy for the spookiest night.
Halloween Recipes
Our cookbook filled with Halloween recipes, tasty tricks and treats.
Halloween Games
Spooky Halloween games adaptable for both kid's and adults.
Halloween Party
Halloween Party planning and ideas for your festivities.
Halloween Safety
Safety information, tips and suggestions for a safe Halloween.
101 Halloween Tips
That's right, 101 great Halloween tips, ideas and suggestions!
Halloween Props
Spooky Special Effects and Props for your Halloween haunt.
Pumpkin Carving
Pumpkin carving tips for carving your Halloween Jack O' Lanterns.
Movies & Music
Suggestions for the best Halloween music and Halloween movies.
Halloween Crafts
Halloween craft ideas and instructions for lots of Halloween fun.
High-Tech Halloween
Ghostly gadgets for your computer, cell-phone, Palm Pilot and more!
For this Halloween effect we wanted a coffin that seemed to have someone trapped inside and desperately trying to get out. This effect works well in your Halloween graveyard, on the front porch or even as a display inside the house for a Halloween party. Just make sure that you illuminate the prop with enough light so that your guests can see it well.
The Coffin
For this Halloween project we started with a wooden "Toe Pincher Coffin" as our base prop, because its functional and looks great, but you could use another type of coffin or casket. We wanted the top (lid) of the Halloween coffin to be at about waist level when our visitors passed by, so we purchased two plaster pedestals from the garden department at our local nursery to act as coffin stands, placing one under each end of the coffin. You could also build a set of coffin stands.
The Chain
While you could use metal chain, it tends to be very expensive, quite heavy and difficult to cut. We decided to use plastic chain and bought fifteen feet of two-inch-link plastic chain from Mr. Chain (black or silver looks best) and a couple of inexpensive padlocks from our local dollar store. We cut the plastic chain easily with a hacksaw, giving us two pieces, one eighty-six and another seventy-six inches long.
We then wrapped one piece of chain around the Halloween coffin diagonally and padlocked it together. Then the other piece of chain the other direction and padlocked it together as shown in the picture. The longer piece of chain wraps around the top/larger part of the coffin. To make sure that the chain does not slip out of position, we used twist-tie to secure it at several points to hold the chain together. We also drilled several small holes through several strategic points in the chain and hammered small finishing nails through to hold the chain to the coffin.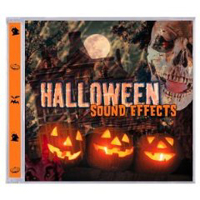 The Sound Effects
For some scary sound effects, we placed a battery powered CD player inside the coffin set on continuously play. If you use an AC powered player, you will need to drill a hole in the side or bottom of the coffin that is large enough for the cord to go. There are a lot of Halloween sound effects disk's available that have numerous sound clips on them including screaming, moaning and banging that can be used for making the CD. We used a sound clip off the "Halloween Sound Effects" CD pictured to the right (Track #5 - "Heavy Breather").
Adding a Hand
While not necessary to the effect, you can add a single hand or skeleton hand by attaching it to the inside of the coffin with its fingers bent around the edge and outside of the lid as though it is trying to open the lid from inside. Fake novelty hands are inexpensive and can be found at most department stores during the Halloween season. A realistic "Bucky" skeleton hand is available from The Skeleton Store. If you use a skeleton hand, be sure to distress it, so that it looks old.
Animatronic's
If you want to take this prop to the next step and create a very realistic animatronic effect, you can buy a "Coffin Lid Banger" unit. This device mounts inside the coffin and actually bangs on the lid of the coffin, causing the lid move and a real banging sound as though someone is trapped inside and trying to get out. A very creepy effect!