MAIN CONTENTS

Featured Articles
The latest Halloween articles from the staff of Halloween Online.
Halloween Costumes
Halloween Costumes, Halloween Masks and Makeup ideas.
Halloween Decorations
Halloween decorations you can make or buy for the spookiest night.
Halloween Recipes
Our cookbook filled with Halloween recipes, tasty tricks and treats.
Halloween Games
Spooky Halloween games adaptable for both kid's and adults.
Halloween Party
Halloween Party planning and ideas for your festivities.
Halloween Safety
Safety information, tips and suggestions for a safe Halloween.
101 Halloween Tips
That's right, 101 great Halloween tips, ideas and suggestions!
Halloween Props
Spooky Special Effects and Props for your Halloween haunt.
Pumpkin Carving
Pumpkin carving tips for carving your Halloween Jack O' Lanterns.
Movies & Music
Suggestions for the best Halloween music and Halloween movies.
Halloween Crafts
Halloween craft ideas and instructions for lots of Halloween fun.
High-Tech Halloween
Ghostly gadgets for your computer, cell-phone, Palm Pilot and more!
The "Wrought Iron Cemetery Entry" made by Haunted Enterprises is a large, high-end Halloween decoration suitable for either outdoor or indoor use and acts as an ideal entrance way into a Halloween graveyard. With its gothic styling, it really sets the mood. But it can also be used as an entrance into your property or even indoors as part of your Halloween party decorations.
Measuring almost eight feet wide and eight feet tall at its highest point, this unit makes a very impressive display. You won't find any plastic on this high quality Halloween prop. Both the horizontal and vertical frames are made from heavy-duty square steel tubing, with real wrought iron decorative inserts welded into place. The "Cemetery" letters are made from large metal letters and are the three Celtic crosses that adorn the top and sides.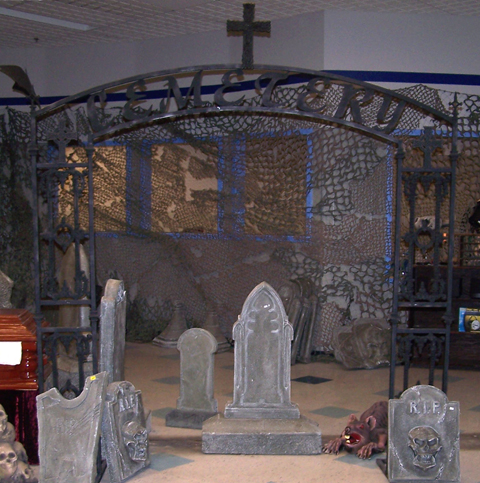 We had the opportunity to watch as one of these was being built by the manufacturer and a lot of work and materials go into its creation. Precise cutting of all the steel sections, bending the steel tubing for the arch, welding the frames together, welding in the wrought iron decorations, grinding down and de-burring the welds, painting the unit and finally distressing it with an antique bronze finish. Custom painting and finishes are also available by special order.
While the retail price of $995.00 for the base unit might sound like a lot to spend for one Halloween decoration, its important to remember that this is no light-weight prop and will last virtually forever. They build this item to order, so be sure to place your order as early as possible.
Setup of this Halloween display is easy, you simply attach the two bottom vertical raisers to the two base pieces. Then, attach the top arch to the two top sections of the vertical raisers and slip the top and bottom raisers together. The only tool you need to assemble the display is a Philips screwdriver.
Like many of their other large Halloween props, Haunted Creations designed the "Wrought Iron Cemetery Entry" to break-down into multiple pieces for easy storage, but equally as important, so that it could be shipped via UPS, rather than the always expensive ground freight method. The basic unit weighs in at 125 pounds.
They also manufacture and sell two separate add-on sets for this great display. The first is a pair of five foot tall, metal, wrought-iron style gates designed to attach with hinges to the sides of the entry. The second option is metal wrought-iron style fencing panels that are custom made and sold by the linear foot. These can be attached on either side of the entry to enhance the look, or even surround an entire Halloween cemetery if you want.
For our indoor Halloween party, we moved the table and chairs out of the dining room and positioned this unit about three feet away from the wall. We then placed a toe pincher coffin, set on top of stands, against the wall. On top of the coffin we placed a Jack O' Lantern in the center and tray's full of treats on either side. We adorned ours with a small amount of fake cob-webs and perched a fake raven on top of the arch to look down at our visitors. This coming Halloween we are going to spray the "Cemetery" letters with invisible fluorescent paint and illuminate it with a black light. The rest of the year it's part of the headboard for our bed, the master bedroom being done up for Halloween all year long. Available exclusively from: www.halloweenconnection.com