Personally, we think that there is nothing more perfect than a pumpkin pie. Over the years we've baked more of them than we can count! We bake them for friends, family, co-workers, and, of course, for our selves. Below are some tips we've found over the years to be helpful when baking the perfect pumpkin pie.
Baking Pumpkins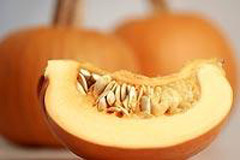 Its important to understand that baking pumpkins are a completely different variety from the one we carve into Jack O' Lanterns. While you could make a pie from a carving pumpkin, the meat is very stringy, and it would not have the same flavor, smooth consistency and baking characteristics of a baking pumpkin.
Pie Pumpkins, sometimes called Sugar Pumpkins, are much smaller than there larger cousins and have nice smooth outer shell with thick walls on the inside. A typical sugar pumpkin weighting four to five pounds will provide about one and a half cups of mashed pumpkin, which is just enough for one pie.
Pie Crust Cutting
If you make your pie crust by scratch, roll it out with a rolling pin into a 12" circle, about an 1/8th of an inch thick. Lay your pie pan upside down on the crust and cut around it leaving an edge of about 2 1/2 inches.
Ready-Made Pie Crust
Pillsbury ready-made pie crust which can be found in your grocery stores freezer section is a great substitute for home made crust. It comes with two ready to use crusts that have to be thawed for 15 minutes, then unrolled carefully and lightly dusted with flour. Lay one in a 9 inch pie pan and center it. Don't cut off the over hanging crust, fold it over and use a fork to score it to make the edging crust around the pie pan. Then it's ready to pour your pumpkin mix in and bake. Leave an inch between the pumpkin mix and the rim of the pan because the pie filling will expand when it bakes, then settle back down when it cools. Pillsbury also makes a pie crust mix that just takes some water, mixing and rolling out to prepare. Both are fine, it just depends on how much time you have to spare.
Decorative Crust Edging
By using small Wilton Autumn Leaf cookie cutters, you can cut shapes from pie dough and lay them around the edges of the pie crust to give it a more festive look. Use an extra sheet of pie crust and cut out the different leaf shapes, use a small pastry brush and egg white to attach, just brush the egg white on the rust and stick the leaf on. It makes a nice finish to your pie. You can find the Wilton mini cookie cutters at most mass market retailers during the fall months.
Protecting the Crust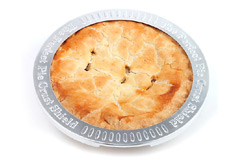 Its important to protect the edge of the crust from burning while it cooks. You can use aluminum foil folded around the edges or an aluminum pie pan shield or protector like the one pictured at the right. We've used both and they both work fine. It just depends on what you have. If you have foil to work with, , tear of a sheet around 10 inches long. Cut it into 3" wide strips and carefully form over the edge crust and wrap under the bottom lip of the edge. It may be a little loose but as you add another strip around, you can tighten them together and they'll stay put. Do this until the whole crust edge is covered. Or if you have crust protectors, just sit them on the pie pan over the edges. Remove the crust protectors during the last 15 minutes of baking so the edges can brown.
Is it done yet?
The most common way to check to see if a pumpkin pie is done is with either a knife blade or a tooth pick. Usually a pumpkin pie bakes at 425degrees for 15 minutes, then gets turned down to 375 degrees for 45 minuets to an hour. You can check to see if it's ready by sticking a toothpick or the blade of a knife in the center of the pie. If it comes out clean, the pie is done. If pumpkin sticks to either one, it's got a few more minutes to bake so check it often until finished.
Serving Tips
The presentation of any dessert adds to its appeal and this includes pumpkin pie We always serve ours on our seasonal dishes and never on a paper plate. We have two sets of Halloween dishes and three sets of Thanksgiving/Autumn dishes so this is never a problem for us, but if you don't have any jus serve it on a real plate or china. Pumpkin pie is too special to serve on paper plates, unless you are having a big dinner and that's what you are using just to save dish washing time. But, hey, that's what dishwashers were invented for!
Homemade Whipped Cream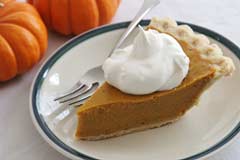 While many people use compressed whipped cream in a can for its convenience, but this is quite expensive, as you get very little product compared to the high cost.
Other people use an imitation whipped topping that uses hydrogenated vegetable oils instead of real cream for its consistency. We like to make our own real whipped cream on our pumpkin pies, its easy to make and a very tasty.
Add one half pint heavy whipping cream, three tablespoons white sugar and one teaspoon real vanilla extract to a mixing bowl. Start the mixer on medium speed, whip until the mixture begins to stiffen, then increase the speed to whip. Be careful not to over beat or it will become too thick. Refrigerate in an air tight container.
Decorative Whip Cream
Most people just dollop out a spoon full of whip cream onto or beside the slice of pie, but there is a fancier way that's easy, but looks really special. Using a pastry bag and a star tip, spoon your whipped cream (either home made or store bought) into the pastry bag and squeeze out in a circle over the peice f pie. Start with a dot on the center, then just keep going around and up to make a nice, pretty show of whipped cream on top. To make your own, click here.
Pumpkin Pie Storage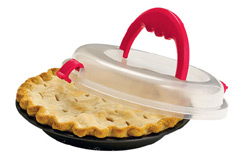 Once your pie has cooled to room temperature, it should be stored in the refrigerator to prevent bacteria from forming. To store, you can cover the pie in its pan with plastic wrap, or use a pie keeper.
There are several plastic pie keepers on the market. We really like the Avon Bake and Carry Pie Pan and Lid combination. It comes with a nine inch diameter carbon steel pie pan and a plastic detachable lid with carry handle. Its currently not available, but we hope they bring it back.