MAIN CONTENTS

Featured Articles
The latest Halloween articles from the staff of Halloween Online.
Halloween Costumes
Halloween Costumes, Halloween Masks and Makeup ideas.
Halloween Decorations
Halloween decorations you can make or buy for the spookiest night.
Halloween Recipes
Our cookbook filled with Halloween recipes, tasty tricks and treats.
Halloween Games
Spooky Halloween games adaptable for both kid's and adults.
Halloween Party
Halloween Party planning and ideas for your festivities.
Halloween Safety
Safety information, tips and suggestions for a safe Halloween.
101 Halloween Tips
That's right, 101 great Halloween tips, ideas and suggestions!
Halloween Props
Spooky Special Effects and Props for your Halloween haunt.
Pumpkin Carving
Pumpkin carving tips for carving your Halloween Jack O' Lanterns.
Movies & Music
Suggestions for the best Halloween music and Halloween movies.
Halloween Crafts
Halloween craft ideas and instructions for lots of Halloween fun.
High-Tech Halloween
Ghostly gadgets for your computer, cell-phone, Palm Pilot and more!
OLD FASHIONED PUMPKIN PIE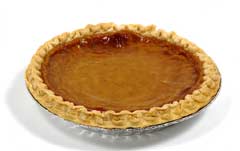 It's not just for Thanksgiving! What better treat for Halloween than a pumpkin pie? And let's not skimp on the whipped cream, pick up a carton of heavy cream and whip up some real whipped cream to top off your perfect pumpkin pie!
I picked up a special pan to use for all my pumpkin pies, it's shaped like a pumpkin! You can find it at most arts and crafts stores that have a cake decorating section or at a restaurant supply store that carries cake decorating supplies. It adds that special something!
INGREDIENTS
3/4 cup granulated sugar
1-1/2 cups (12 oz can) evaporated milk
1/2 tsp. salt
2 eggs
1-3/4 cups (15oz can) pure pumpkin filling
1 tsp. ground cinnamon
1/2 tsp. ground ginger
3/4 tsp. ground cloves
TIP: You can substitute pumpkin pie spice for all the individual spices.
Use 3 tsp. of pumpkin pie spice instead.
PREPARATION
Combine sugar, salt, cinnamon, ginger and cloves in a small bowl. Beat the eggs lightly in a separate large bowl. Stir in pumpkin and dry mixture. Gradually stir in evaporated milk.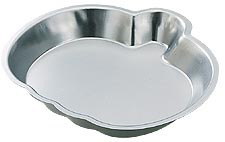 Press a pre-made pie crust into a 9-inch deep dish pie crust and cook according to directions on the package. Pour mixture into the pie shell. Instead of using a regular pie pan, you can also a Halloween themed pan such as the Wilton Pumpkin cake pan shown above.
BAKING
Cook in a pre-heated 425º F. oven for 15 minutes, then reduce the temp to 350º and bake for 40 to 50 minutes or until a knife tip inserted in the center of the pie comes out clean. Cool on a wire rack or a cool counter top for 2 hours before serving. This also gives it time to set up, so when you cut it and set it on a plate, it will stay in one piece.
STORAGE & SERVING
Store in the refrigerator, covered with plastic wrap or aluminum foil. Chilling will cause the crust to separate from the pie slightly but it's better then getting botulism. Top with a whipped cream and there you have it! A classic pumpkin pie!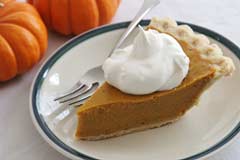 Homemade whipped cream
1/2 pt. heavy whipping cream
3 tbsp. sugar
1 tsp. vanilla

Making your own creamy whipped cream is easy. Add ingredients to a mixing bowl. Starting on medium speed, whip the cream, vanilla and sugar with mixer. As the mixture begins to stiffen increase speed to whip. Be careful not to over beat or it will get too thick. Refrigerate in an air tight container.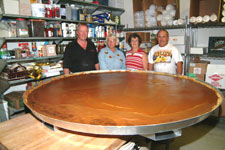 According to the Guinness World Book of Records, the world largest pumpkin pie was baked on October 8, 2005 and weighed in at 2,020 pounds (after baking).
It measured 12 feet, 4 inches wide and 4 inches deep. The pie recipe included 900 pounds of pumpkin, 155 dozen eggs, 62 gallons of evaporated milk, 300 pounds of sugar, 3.5 pounds of salt, 7 pounds of cinnamon and 2 pounds of pumpkin pie spice.
It was prepared and baked for over five hours in a custom made oven by the New Bremen Giant Pumpkin Growers in New Bremen, Ohio. This giant pie made over 3000 pieces.