MAIN CONTENTS

Featured Articles
The latest Halloween articles from the staff of Halloween Online.
Halloween Costumes
Halloween Costumes, Halloween Masks and Makeup ideas.
Halloween Decorations
Halloween decorations you can make or buy for the spookiest night.
Halloween Recipes
Our cookbook filled with Halloween recipes, tasty tricks and treats.
Halloween Games
Spooky Halloween games adaptable for both kid's and adults.
Halloween Party
Halloween Party planning and ideas for your festivities.
Halloween Safety
Safety information, tips and suggestions for a safe Halloween.
101 Halloween Tips
That's right, 101 great Halloween tips, ideas and suggestions!
Halloween Props
Spooky Special Effects and Props for your Halloween haunt.
Pumpkin Carving
Pumpkin carving tips for carving your Halloween Jack O' Lanterns.
Movies & Music
Suggestions for the best Halloween music and Halloween movies.
Halloween Crafts
Halloween craft ideas and instructions for lots of Halloween fun.
High-Tech Halloween
Ghostly gadgets for your computer, cell-phone, Palm Pilot and more!
Here, you'll find our favorite Witchcraft movies.

The Good Witch
Cassie is a bewitching young woman who moves into a mysterious mansion in a small town. Soon, she opens Bell, Book & Candle, a curiosity shop full of candles, lotions and potions, and is enthralling the children of the local Police Chief, who believes that she is a witch. But not everyone in town is appreciative of their quirky new neighbor, and it may take a little bit of good magic for her to truly become part of the community. A fun movie for the whole family. Read more.
Little Witches
Six teenage girls at a boarding Catholic high school become mixed-up with occult after finding a old spell book in an ancient temple hidden beneath the church, which contains a spell that will summon a powerful demon from the pits of hell. Jamie, the bad girl and rebel of the group, takes charge and endeavors to summon the demon However, Faith, the good girl of the group has a change of heart and attempts to stop them from completing their ritual. 1994
Elvira - Mistress of the Dark
Dreaming of financing her own show in Las Vegas, Elvira leaves Hollywood in her customized "Macabremoblie" to claim what she thought was an inheritance. However, upon arriving in Fallwell, Massachusetts, all she finds is two drooling yokels, an overzealous morality brigade and a creepy great-uncle with more on his mind than long-lost relatives. With her penchant for double entendres and low cut dresses, Elvira scandalizes the town and soon finds herself in danger of being burned at the stake for being a Witch, jeopardizing her chances of ever making it to Vegas. 2001
Practical Magic
This romantic comedy, which is based on Alice Hoffman's best-selling novel, introduces the Owens sisters, Sally and Gillian, who try to use their hereditary gift of witchcraft to help them find love. 1999
Spellbinder
When Jeff and his friend rescue a young beautiful woman from an apparently abusive boyfriend, the trouble starts. Jeff unknowing becomes involved with Miranda and the web of intrigue that follows her. Miranda is on the run from the witches' coven (to which she belongs). Miranda tells Jeff of her situation, but not the entire truth. Jeff willingly helps Miranda out of her troubles, but creates his own.
Bell, Book and Candle
Great cast in supernatural romantic comedy. When urban witch Kim Novak casts a spell on Jimmy Stewart to lure him away from a snooty former schoolmate, but finds the spell rebounding due to the intercession of a more powerful witch. Jack Lemmon and comic genius Kovacs add lots of laughs.
The Craft
Four teenage girls, outsiders in their clique-ridden religious school, find an outlet for their pent-up hostilities when they form a supernatural coven. Armed with the power of "the craft," these novice witches gleefully take vengeance on their enemies, but ultimately their indiscriminate use of power catches up to them. 2000
Hocus Pocus
Follows the story of Max who accidentally awakens three witches who want to absorb the life forces of the children in Max's hometown of Salem. The witches were put to death 300 years ago but are brought back when Max lights a magical candle. The movie is played out as Max attempts to defeat the witches with the help of friends and an immortal cat. 1999
The Witches of Eastwick
Based on John Updike's best-seller, this comic battle of the sexes is coupled with supernatural thriller overtones as three beautiful unmarried residents of a small New England town seem to have conjured up "Mr. Right", a rich, eccentric and charismatic stranger. But who or what is he? 1997
Midnight Offerings
Its Good Witch verses Bad Witch in this 1981 made for TV movie. Melissa Sue Anderson plays Vivian, an evil Witch who uses her powers to rule her high school and fellow students, including her reluctant boyfriend David. Enter the new girl in town and school, Robin Prentiss played by Mary Beth McDonough. Good natured Robin also has supernatural powers, but has yet to develop or gain full control of them. When Vivian realizes that she has a new rival for both her territory and boyfriend, the fight is on, ending in an all out fight between good and evil. More
The Wicker Man
Sergeant Howie, a naive young police officer sent to Summerisle, a secluded island off the coast of Scotland, to investigate the disappearance of a young girl named Rowan. When he arrives there, he finds a very tight-knit community that is mistrustful and hostile to outsiders. No one is willing to even acknowledge Rowan's disappearance. Soon, Howie begins to realize that the town might, in fact, be a strange pagan cult, one given to unbridled sexuality and possible human sacrifice. Seeking an audience with the oddly civilized Lord Summerisle, Howie hopes to get to the bottom of the mystery, but instead he finds something more shocking than he could have ever imagined.
5ive Girls
Five members of a Catholic girls' reform school join forces to battle Legion, a demonic force that inhabits the institution. Supernatural chills, spine-tingling special effects, and the epic battles between good and evil dominate.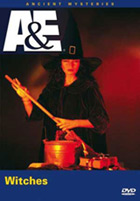 True Witches are not evil as they are often portrayed as being and only cast positive, helpful spells. They follow the nature based religion of Witchcraft and don't believe in the devil at all. One of their main tenets is "And it harm none, do what you will". Sometimes incorrectly called Wiccan's, Wicca is a separate off shoot of Witchcraft.
A&E's documentary Ancient Mysteries looks at the history of witches from ancient times through the Salem Witch Trials to modern day Witches and Wiccans. It also examines how peoples perceptions of witches have evolved over time.