During the seventies, there were many made for television movies with a supernatural, occult and horror premise. Compared to today's made-for-tv movies the production quality and special effects were pretty basic, but many had very original storylines and some well know actors and actresses appearing in them.
Sadly, many of these are not available, being caught in DVD limbo. We hope that Hollywood will come to there senses and at last release these hidden treasures. Fortunately, we recorded many of these off television years ago onto VHS for future viewing and are still able to watch these wonderful movies every Halloween season.
---
The Night Stalker
First aired on ABC January 11th. 1972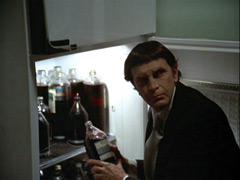 Darren McGavin stars as hard-nosed and often obnoxious Las Vegas reporter Carl Kolchak. Kolchak is investigating a string of gruesome murders where all the victims have been completely drained of their blood.
His story takes a turn when he learns that its a real vampire he's hunting. Click here to read our in-depth article on The Night Stalker, the sequel and tv series.
---
Midnight Offerings
First aired on ABC February 27th. 1981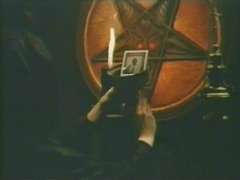 A bad natured teenage sorceress, Vivian Sotherland (Melissa Sue Anderson), uses dark magic to get whatever she wants including good grades, lead cheerleader, a better paying job for her father (Gordon Jump) and the high school jock.
But when a new girl in town, Robin Prentiss (Mary Beth McDonough), Vivian learns that she has a rival for her territory, including her reluctant boyfriend David Sterling (Patrick Cassidy).
As it turns out, Robin has her own supernatural powers and soon confronts Vivian about her wicked ways, but quickly learns that she may be out matched. Robin and David seek advise from Emily Moore (Marion Ross), a local good Witch. Realizing that a battle between them is inevitable, Robin works hand and quick to develop and strengthen her natural abilities.
Things finally come to a head and the final confrontation between Vivian and Robin is on, ending in a battle of magic and wills. One of our favorite Halloween movies to watch!
---
Horror at 37,000 Feet
First aired on CBS February 13th. 1973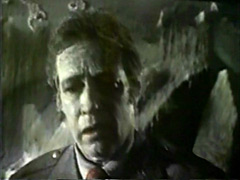 On Mid-Summers Eve, architect Alan O'Neill (Roy Thinnes) and his wife Sheila (Jane Merrow) are flying from London to Los Angeles on a special chartered flight piloted by Captain Ernie Slade (Chuck Connors) that contains a very unique cargo. The O'Neill's have purchased an ancient altar from an old English abbey that had been used Druid's and its in the plane's cargo hold.
But the Druid spirits don't want to go. With only ten passengers and a minimal flight crew, things begin to go wrong. One of the passengers, Mrs. Pinder (Tammy Grimes) is fighting for the Druid spirits and they seem to be winning until ex-priest Paul Kovalik (William Shatner) finally intercedes. Okay, the acting is pretty bad, but it is a unique and interesting story.
---
The Cat Creature
First aired on ABC December 11th. 1973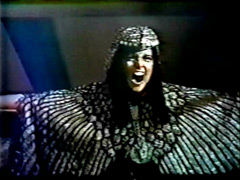 When an Egyptian mummy wearing a ancient magical amulet is stolen from a private art collection and the thief removes the gold amulet from the mummy's neck, the spirit of the mummy is revived and people start dying.
As it turns out, the mummy was that of a priestess from the cult of Bast, the cat goddess, and the amulet was placed on her to imprison her evil spirit.
Prof. Roger Edmonds (David Hedison) working with Police Lt. Marco (Stuart Whitman) seek the aid of alluring Rena Carter (Meredith Baxter) to help unravel the puzzle before the cat creature can strike again.
---
Gargoyles
First aired on CBS November 21st. 1972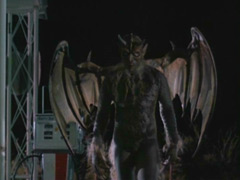 Anthropologist Dr. Mercer Boley (Cornel Wilde) and his daughter Diana (Jennifer Salt), travel to an all but abandoned town in Nevada to here the story of an old man who claims to possess the bones of some strangle creature...for a price.
Unfortunately for him, he will never see a dime, because the Gargoyles attack to recover the bones. From here Diana is kidnapped by the head Gargoyle (Bernie Casey) and taken to local caves were a colony of gargoyles is breeding and growing larger.
Now its up to Dr. Mercer Boley and the locals, including a very young Scott Glenn, to rescue Diana from the head Gargoyle before he becomes too horny, and to stop the colony before its grows to powerful to stop.
Every time I watch this great movie I remember how sexy Jennifer Salt was in this movie and how much I miss halter-tops...
---