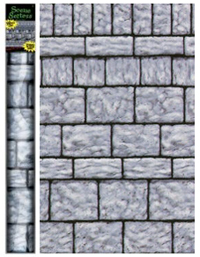 There are a variety of Halloween type wall coverings available, but they are not as easy to put up as you might think. Most people do not have completely bare walls in their home. Most walls have pictures or other day-to-day decorations hanging on them or windows that are covered by curtains. Our solution is to make a facade that temporarily stands against the wall to cover what's behind it.
We use Scene Setters wall coverings to create facades for haunted houses, castle walls, a creepy forest and pumpkin patches as part of our Halloween scenes, in our haunted garage and as a Halloween party decoration. In this example we created a facade large enough to cover a twelve foot wide area that was used to make a vampire scene, but you can make any size adjustments to create facades of any length. While one person can accomplish this project, its far easier if there are two people. Once you build this facade it can be stored flat for the next year.

Materials and Tools (For One Panel)
1 - Sheets of paneling (4'x8')
3 - 2"x2"x8' Boards
24 - Carpet Tacks
1 - Scene Setter "Dungeon Room Roll"
1 - Wallpaper Paste (one quart)
1 - Paint Roller and Roller Pan
1 - Sponge
1 - Scissors or Box Cutter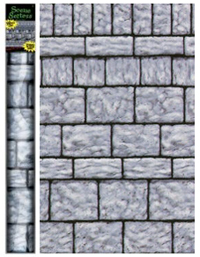 The first thing you need to do is measure the width of the wall or walls that you want to be covered with the Halloween wall facade, so that you know how much materials you will need.
Most Scene Setters come in long, single piece, four foot tall rolls, so you will need to start by trimming the wall covering into the needed sizes. For glueing on paneling you will want four foot long pieces, plus a few extra inches to wrap around the edges and onto the back.
Once you have enough pieces cut for your project, lay a piece of paneling on a flat surface. Using inexpensive paneling instead of plywood or particle board keeps this prop light-weight.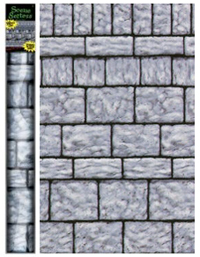 Pour some wallpaper paste into a paint roller tray and then use a paint roller to apply an even coat of wallpaper paste to the surface of the upper half of the paneling. Use plenty of paste, not enough and the covering will not adhere. Make sure that you apply paste around the edges so that the wall covering won't easily lift off the paneling.
Applying the wall covering can be difficult to get it on straight, so what we do is roll-up a single piece into a roll, leaving about six inches unrolled. One person holds each end of the roll, while another person takes the end and carefully lays the top edge of the wall covering over the top edge of the paneling, making sure that it is straight and level. The person holding the roll slowly moves back, unrolling the roll while the other presses it onto the paneling.
A sponge can be used every few inches to push out any air bubbles and press the covering into the. Once the first piece of covering is on the panel, repeat the process on the lower half of the paneling.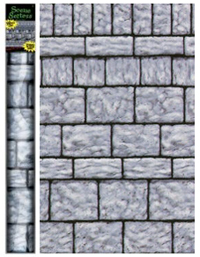 Once a panel is complete, set it aside and repeat the process until all panels are covered. Let the panels sit for a day to insure that the wallpaper paste is completely dry.
Since paneling is thin and designed to be attached to a wall, it is very flexible and does not stand-up straight. To fix this, we attach a basic frame to made from the 2"x2" boards to the back of the paneling.
Lastly, we attach all of the sections of paneling together to make one long facade. To do this we lay the panels wallpaper side down on a large clean, flat surface, such as your garage floor and push them together.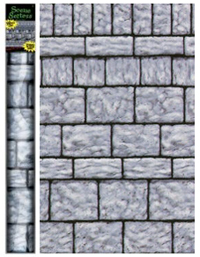 Make sure that you have placed each one in the right direction or you will end up with one or more sections upside-down. Make sure that all edges are level and firmly up against each other.
Use the tape to connect the panels together using one long strip of tape, half on one panel and the half on the other panel. Once you have a strip of tape applied, use the sponge to press the tape down. Trim off any excess tape at the top and bottom with a pair of scissors or box cutter.
Now you can place the facade against the wall it was measured for and temporarily attach it to the wall using double-sided tape or small nails. Bare in mind that tape may leave adhesive reside and nails will leave small holes in your wall.