Scene Setters are Halloween style wall coverings that allow you to transform your walls into spooky Halloween scenes. These wall coverings are fairly easy to temporarily attach to bare walls using double-sided tape, thumb tacks or Ticky Tak. If the wall you want to cover has paintings or other non-Halloween decorations on it that you don't want to remove, or is a wall with windows, you can build a wall facade. They are lightly laminated for use indoors or outdoors in protected areas or mild weather conditions. Below are some of our favorite designs.
HAUNTED HOUSE INTERIOR WALLS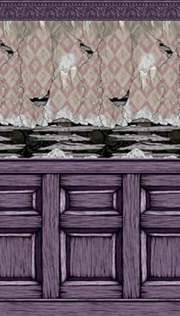 Great for creating a haunted house interior, this wall covering scene is actually made up from three separate Scene Setter products:
Wicked Wood Room Roll
The exposed grain and off-color of the wood on the Wicked Wood Room Roll are a "dead" giveaway that you are in a haunted house. Roll measures four feet tall by fifty feet long.

Peeling Plaster Room Roll
The Peeling Plaster Room Roll can create that effect for an entire room. Roll measures four feet tall by fifty feet long.
Bat Crown Molding Border Roll
This roll has a simple wooden look to it... but take a closer look. Each one of the bat "engravings" has bright red eyes and a red mouth. Roll measures fifty feet in length and eighteen inches high.
CASTLE OR DUNGEON WALLS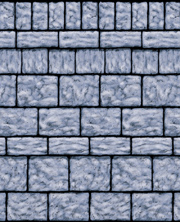 Stone Wall Scene Setter Room Roll
If you want to your walls to look like those of an old castle or maybe you want to convert your garage into a dungeon this Halloween, then the Stone Wall Scene Setter is what your looking for. This roll measures four feet tall by fifty feet in length.
Since Scene Setters can be used outdoors, you could even make the from of your house look like its made out of stone. There are many different Scene Setter add-on packs that can enhance the appearance of your stone walls.
CREEPY FOREST & LAKE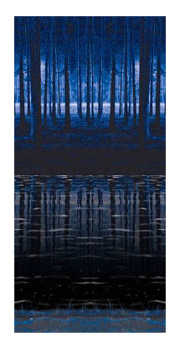 Jason Room Rolls
This particular Scene Setter was inspired by the Friday the 13th. movies and allows you to create a very creepy forest and dark reflecting lake that lets you transform your room into a scene from Friday the 13th. or just a spooky forest.
To create the panorama, you simply use the watery reflection roll on the bottom half of your wall and the dark forest roll on the top of the wall. Each roll measures four feet tall by twenty-five feet long.
The overall effect when displayed as shown to the right and will measure eight feet tall by twenty-five feet long, large enough for most rooms.
We also use the Jason Scene Setter as a great decoration for our annual Friday the 13th. party. We add a life-size Jason Voorhees silhouette poster and a Camp Crystal Lake sign over the wall covering as a final touch.
PUMPKIN PATCH SCENE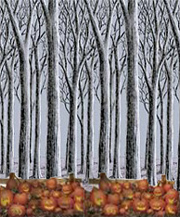 We use the two different Scene Setters below for our Halloween party.
Haunted Forest Scene Setter Room Roll
Create a haunted look for your Halloween party the Haunted Forest Scene. Roll is 4 feet by 50 feet in length.
Pumpkin Patch Scene Setters
Everyone will love these two giant Pumpkin Patch Scene Setters, which, when placed on your walls, will decorate over 10 feet of space. Each pumpkin has a unique expression. This package includes two different scenes, each is 33.5" wide x 65" long.