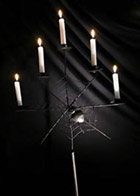 From creepy candles to spooky centerpieces, the soft glow of candles in a candelabra or holder gives the feel of a haunted, creepy and down right spooky place, and have we found some great candle holders and candelabras for your Halloween festivities!
The very Gothic "Spider Web Candle Holder", pictured to the right stands almost four feet tall and is made of solid metal. It's five tiered candles sit a-top the large spider web below with the widow herself waiting in the center. Detail painted, this is a great decoration for all year. Boxed in three easy to assemble pieces. It might be hard to find, check Halloween shops online.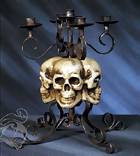 Skull Candle Holders, like the one show here, are a great way to Illuminate any dining room table or dungeon. We picked this up from Fright Catalog and it is an authentic looking candle holder that measures 12in. high and takes five 3/4 inch candles.
The "Skull Candle Holder" is incredibly detailed with four hand painted resin skulls that will bring an eeriness to any haunted decor or serving table. You could use the Dripping Blood candles found at this time of year to give it a creepier look, let the wax drip down as the candles burn.

This detailed, eighteen inch in diameter "Spider Web Candle Holder" from Terry's Village can create an eerie, but elegant look to any room or Halloween lair. Its creepy, crawly spider and hanging loop are built into its all metal design. Just add your own tea lights to the six orange tinted glass cups. As with any wall sconce type candle holder, be sure to attach it to the wall securely and away from any materials that could catch fire such as drapes. Or even better, use battery powered flickering tea lights to eliminate the chance of fire.

For those who loved the "Nightmare Before Christmas" movie, you'll love these highly detailed "Jack Skellington and Sally" candle holders. The boxed set includes two seven inch tall candle holders featuring our beloved Jack Skellington and Sally on a pair of fearsome Jack O' Lantern bases.
These candle holders are made of solid resin and have been hand painted in detail. We use tall yellow colored taper candles in these candle holders and they look great sitting on the coffee table.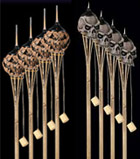 While not actually candle holders, we found these very scary skull and pumpkin tiki-torches that were just too cool not to mention. They are quite unique and offer a twisted way to light up the night. Perfect to line your walkway with as victims, err...guests approach. Citronella not included.
As with anytime you use lit candles, extreme care must be taken to avoid fire or injury! See our "Candle Safety Tips" article for more safety information.