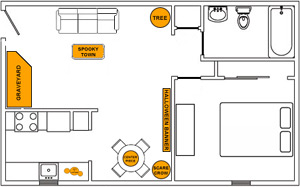 Many people don't have the luxury or desire to live in a house, and reside in an apartment instead. Decorating an apartment, particularly a small one, does limit how much you can do, but that doesn't mean that you can't do a great job decorating for Halloween. Even if you don't think you will receive any trick or treaters, decorate for friends, family but mostly for yourself.
Last year we helped a good friend of ours decorate her small one bedroom apartment and it turned out great. She really loved getting back into the Halloween spirit and even hosted a small Halloween party for a few close friends.
First you will want to create a basic plan of how you want to decorate and what types of Halloween decorations you will need. This plan will be based on available space and your budget. Look around the main room of your apartment and envision what you would like to do, then write it down on paper, including a simple diagram (Click here to see a large version of our diagram).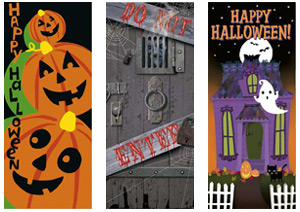 Next, you will want to clear as much space as possible. Pack all non-essentials in the main room into boxes and either place them in storage or in the bedroom.
If it is a single room apartment and you have no access to a storage area, you can see if someone in your family or a friend will let you temporarily store your things in their attic or garage. You may need to move some furniture around or even into the bedroom if necessary.
The Front Door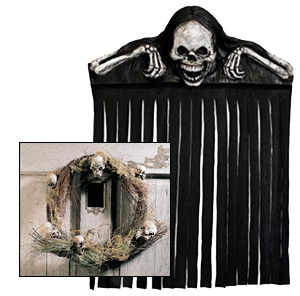 The outside of the door to your apartment should only be decorated with inexpensive decorations, this way if some hoodlum or prankster decides to take them, you aren't out much money. There are several different styles of Halloween door covers that you easily tape to the face of the door and cost as little as a few dollars.
On the inside of the door, you can hang a festive Halloween wreath using a screw-in cup hook. There are many different styles available to purchase or you can make your own with supplies from a craft store. If you aren't allowed to make holes in things, you can use those adhesive hooks that come off easily, made by 3M.
You can also buy a spooky door topper. These usually have streamers hanging down and attach to the top of the door frame.
A Halloween Centerpiece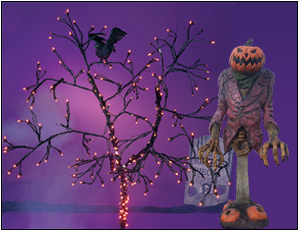 A Halloween tree in the corner or a small one as a tabletop decoration looks great as a visual centerpiece. There are all sorts of things that can be used as decorations. Click here to read about different types of Halloween Trees.
Putting together a small Halloween town on a coffee table, kitchen table or bar using Lemax Spooky Town buildings and accoutrements is another way to make a great centerpiece.
Ceiling and Walls
Start by adding cob webs to the corners of the ceiling and then suspend some rubber bats hanging from the ceiling using fishing line and thumb tacks. A big Halloween banner on the wall makes a statement. A Halloween style clock can be bought for as little as ten dollars. You can hang it on the wall or if it's a round clock, use a stand up plate holder to display it.
Jack O' Lanterns
Just because you don't have a front porch doesn't meant that you can't have a few carved pumpkins placed through-out your apartment. The kitchen table, counter and coffee table are all great places to display your Jack O' Lanterns. Check out Pumpkin Carving 101 for all sorts of great suggestions and tips. If you don't have the time to actually carve real pumpkins, you can always buy the pre-carved artificial Jack O' Lanterns. Most come with a plug in light so you can just plug it in and it's all set!
Build a Small Indoor Graveyard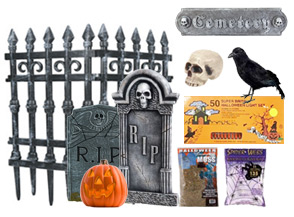 Yes, its actually possible to build a graveyard in a small space as a Halloween display. You can erect it in a corner or along a portion of a wall.
The "Cemetery Fence Halloween Prop" is a plastic cemetery fence that comes packaged in two pieces. Assembled, the section measures about three feet long by thirty inches high. Sections snap together easily, so that you can make a fence just about any size just by adding more sections. We made a six foot wide by three foot deep cemetery using four sets. Each set retails for around $19.95.
Since most apartments have white walls, we tacked up black felt fabric the full width of the cemetery and twice the height of the fence to act as a backdrop on the wall. We also cut out a large circle from a piece of yellow felt and tacked it over one side of the black felt at the top to look like a full moon.
Once the fence is assembled and in position, we spread Spanish Moss over the floor to make a bed inside the fence. If this is going to be on carpet, lay down a plastic drop cloth to prevent a mess. Add a few tombstones, fake spiders, a skull, fake crow or raven, a Jack O' Lantern and a creepy sign that reads "Cemetery" or "Graveyard", and you have a really cool display.
Spooky Lighting
Changing out your light bulbs to a creepy color like blue or green can instantly change the tone of a room from normal to spooky. We replaced the regular bulbs in lamps with colored fluorescent FEIT Party Light bulbs (twist type). We think it looks best to only have one color in a single room. These bulbs are available in several colors and can be purchased at your local hardware store.
Strings of orange and/or purple colored mini-lights are a great way to add festive lighting. You can hang mini-lights around your window frames, curtain rods, door frames, across the ceiling, on a balcony, etc. Always think safety when using holiday lighting or any other electrical decorations.
Have a lot of fun and a Happy Halloween!