| | | |
| --- | --- | --- |
| --- | HALLOWEEN COSTUME CONTESTS | --- |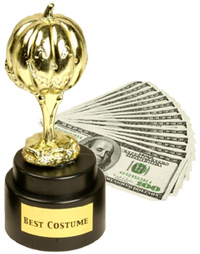 Entering yourself in a Halloween costume contest can have many rewards, the prestige of winning top prize, a great looking trophy to set on the shelf and last, but certainly not least, the cash prize. Think of it as a spooky beauty pageant.
It seems that every year Halloween costume contests have become more competitive and the prizes have become bigger and better, sometimes in the thousands of dollars, being awarded to contestants.
Most Halloween costume contests are held at local events such as community dances and Halloween parties, night clubs, local benefits, schools, parades, etc. These contests are usually pre-announced in local television, radio and newspaper advertising for the venue where it will take place.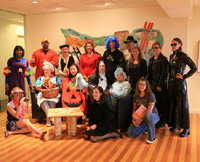 Some are basically free-for-alls, where you just show up in costume, register and later walk in front of the judges, while others have a set of contest rules that you should read carefully before entering. Some of these contests are divided into categories such as best female costume, best male costume and best couples costumes, etc. If you want to have a chance of winning, it's very important that you do not wait until the last minute to come up with your costume.
Start planning at least a few weeks before the contest date. This is particularly important if you will be buying your costume online, so that you can see if it fits and to select what extras you will be adding.
Whether your Halloween costume is scary, sexy, funny or something very unusual, judges will base their scores on different factors. Realism, originality, detail, the portrayal of your character and, quite honestly, their own personal tastes are all factors.
Costume & Makeup Tips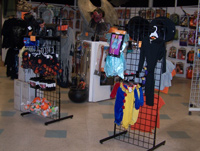 Don't think that old favorites like vampires, witches and ghosts can't win a costume contest, you just have to create a really good ensemble that is unique enough to get the judges attention.
Store bought costumes can run in the hundreds of dollars for high quality designs and they usually look great. Be sure to buy the right size and accessorize with appropriate jewelry, props, wig, makeup and whatever else it may need.
Homemade costumes allow you to customize your idea exactly as you wish, but do require some sewing and craft skills to make a good one.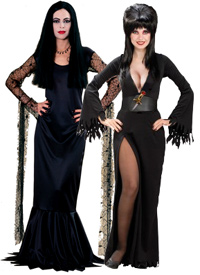 Try to choose a costume look that matches your physique and that it fit you properly. An example would be if you are slender you might want to dress as Morticia Addams, a slinky Witch or fragile Fairy. If you have a more full figure, Elvira, a Sexy Pirate or Playboy Bunny would be a better fit. A baggy costume on a thin person might look bad and one that fits too tightly on a larger person will be uncomfortable and can rip at the most inopportune time. Make sure that the costume you pick fits properly.
Many costumes are made from man-made materials such as rayon and tend to be wrinkled out of the package. Carefully iron or steam out the wrinkles, testing a small area first for temperature setting. Use a non-cling spray to prevent static from making it cling to your body. If your wig has the "static fly aways", give it a spray as well or run a drier softener sheet over it. A heavy duty hair spray works well, too, just don't brush or comb once it's been sprayed.
Be sure to add any genre appropriate accessories to your costume to make it as realistic, showy and believable as possible. A simple example would be if you were wearing a witch costume, you would want to carry a creepy looking broom, wear an eye catching witches hat and carry a stuffed black cat with you for starters.
Unless your costume completely covers your head, don't think that just slipping on a costume will be enough. Makeup is very important. As part of your Halloween costume you may want to change the color and style of your hair. Doing so can add that extra something to your total Halloween look. Read our Halloween Wigs article for more information.
Don't forget your feet! Imagine how silly a great looking Terminator costume would look if you were wearing tennis shoes instead of combat boots. Wearing shoes compatible with your costume can make a big difference in your appearance.
Lastly
Have lots of fun and be sure to have a friend take some pictures of you in your costume for posterity. Make the most of prepping for the contest and you may walk away with first prize!