MAIN CONTENTS

Featured Articles
The latest Halloween articles from the staff of Halloween Online.
Halloween Costumes
Halloween Costumes, Halloween Masks and Makeup ideas.
Halloween Decorations
Halloween decorations you can make or buy for the spookiest night.
Halloween Recipes
Our cookbook filled with Halloween recipes, tasty tricks and treats.
Halloween Games
Spooky Halloween games adaptable for both kid's and adults.
Halloween Party
Halloween Party planning and ideas for your festivities.
Halloween Safety
Safety information, tips and suggestions for a safe Halloween.
101 Halloween Tips
That's right, 101 great Halloween tips, ideas and suggestions!
Halloween Props
Spooky Special Effects and Props for your Halloween haunt.
Pumpkin Carving
Pumpkin carving tips for carving your Halloween Jack O' Lanterns.
Movies & Music
Suggestions for the best Halloween music and Halloween movies.
Halloween Crafts
Halloween craft ideas and instructions for lots of Halloween fun.
High-Tech Halloween
Ghostly gadgets for your computer, cell-phone, Palm Pilot and more!
Seattle Underground City - Seattle Washington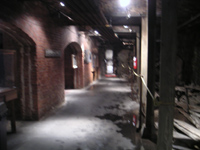 Visit the spooky city that lies beneath Seattle's present street level where you'll learn how the Underground was created. The subterranean walkways are dry, but the history sure isn't! You may remember seeing the Hollywood version in the 1973 made-for-TV movie "The Night Strangler" where newspaper man turned monster hunter, Carl Kolchak is searching for a supernatural serial killer who is hiding in the underground city beneath the streets.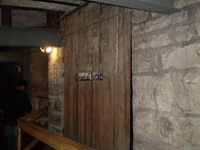 What most people don't know about this coastal city is that in 1889, an accidental fire spread rapidly through the downtown area burning most of the wooden building. The local fire department tried to fight the fire, but the fire hoses soon lost their pressure, and a human chain of fire fighters manning buckets of seawater from the coastal shore were used to fight the massive fire for a time. In the end, thirty-three blocks of Seattle burned to the ground.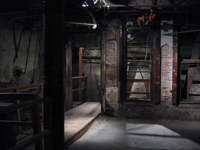 Reconstruction was very quick, but not very coordinated. Buildings were erected before city officials could implement their plan to elevate street levels nearest the waterfront. At some point, officials ordered that the streets must be raised. Stone walls were erected on each side of the roadways and filled with whatever materials were available including fire debris, dirt from the hillsides, garbage, even dead horses, before the surfacing work was complete.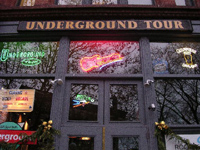 There is tour available that consists of guided walking tour beneath Seattle's sidewalks and streets. While you roam the subterranean passages that once were the main roadways and first-floor storefronts of old downtown Seattle, Tour Guides regale you with humorous and often risqué stories that Seattle's founders wouldn't want you to hear. It's history with a twist! Be prepared for the underground landscape to be moderately rugged: you'll encounter six flights of stairs, uneven terrain and spotty lighting. Dress for the weather—and leave your high heel shoes at home! Click here for more information.
When visiting or investigating any spooky place be sure to obey all local laws and always respect the privacy of land owners and residents. Always get advance permission to enter private property. Never trespass on, take anything from or damage anyone's private property. Always show respect!