| | | |
| --- | --- | --- |
| --- | LARGE HALLOWEEN SPIDER WEBS | --- |
Without a doubt most people are afraid of spiders and their sticky webs. So, when it comes to using fake spider webs as Halloween props, bigger is always better when you want to terrify your visitors! Extra large spider webs such as these can be used to create an entire Halloween scene.
Spiderweb Man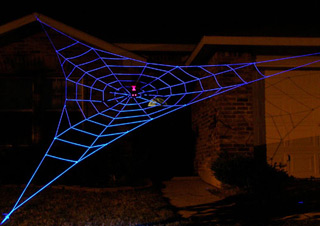 Spiderweb Man makes the largest rope spider webs as Halloween props available anywhere. These house size webs are hand made, extremely impressive and available in five enormous sizes from twenty to fifty feet in size!
They are made from cotton and are available in standard or GlowWeb which has been treated to glow under a black light.
The Almost Giant Spider Web is the smallest web they make, measuring twenty feet across its diagonal, and has three anchor points.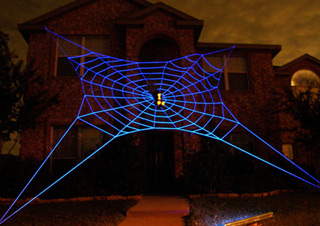 The Bermuda Spider Web measures thirty by thirty by thirty feet and has four anchor points. When we received our Bermuda GlowWeb, we were very pleased with both the quality and construction. We used screw-in metal cup-hooks to anchor two ends to the house and a tent stake to anchor the third end to the ground.
Itsy bitsy spider, not!
What would a spider web be without a big, scary spider hanging in it, poised to attack anyone that dares to approach! A fake spider can easily be attached to the web using either twist-ties or string. Spider props of various types and sizes can be found at many retailers during the Halloween season.
Once the web was up and night fell, we illuminated it with a dual lamp four foot black light unit. You will want to position the black light unit so that it's light is directed onto the surface of the web, but where your visitors cannot see the black light unit its self. Conceal the cord both for safety and effect.
Available exclusively from SpiderWebMan SpiderWebs

---
9 Foot Spider Web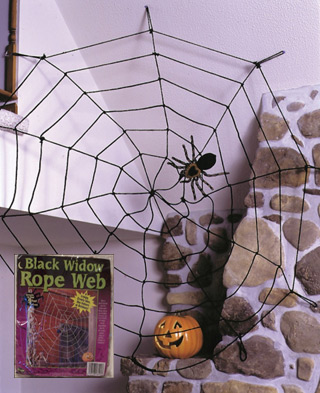 While not as impressive as the webs above, Morris Costumes manufacturers a nine foot diameter spider web made of 4mm white rope and has loops on each end for easy hanging. While they do make a version with black rope, we only use the white one for realism.
This size web works well indoors where space is limited, or outdoors in small areas. The location for the web has to be large enough to accommodate the size of the web stretched out.
White cord can be used to tie off all of the ends of the web to your house, front porch, carport, garage, between trees, etc. We secure ours with a staple gun.
We like to hang one of these large spider webs between two trees, at a slight angle. From here you can place a large spider prop on it or dozens of the small plastic spiders that can be purchased by the bag.
Read our Glow-in-the-Dark Spider Web article if you want to make the web glow under a black light.
Available at hollywoodtoysandcostumes.com
---