MAIN CONTENTS

Featured Articles
The latest Halloween articles from the staff of Halloween Online.
Halloween Costumes
Halloween Costumes, Halloween Masks and Makeup ideas.
Halloween Decorations
Halloween decorations you can make or buy for the spookiest night.
Halloween Recipes
Our cookbook filled with Halloween recipes, tasty tricks and treats.
Halloween Games
Spooky Halloween games adaptable for both kid's and adults.
Halloween Party
Halloween Party planning and ideas for your festivities.
Halloween Safety
Safety information, tips and suggestions for a safe Halloween.
101 Halloween Tips
That's right, 101 great Halloween tips, ideas and suggestions!
Halloween Props
Spooky Special Effects and Props for your Halloween haunt.
Pumpkin Carving
Pumpkin carving tips for carving your Halloween Jack O' Lanterns.
Movies & Music
Suggestions for the best Halloween music and Halloween movies.
Halloween Crafts
Halloween craft ideas and instructions for lots of Halloween fun.
High-Tech Halloween
Ghostly gadgets for your computer, cell-phone, Palm Pilot and more!
Distressing a Bucky Skeleton
Its important to remember that the Bucky skeleton is manufactured primarily for the medical industry and is not meant to look as though it has been buried for the last hundred years. So, you'll want to make some improvements to give him that "fresh from the grave" look that will make his Halloween appearance spectacular!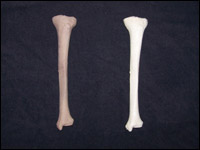 After some experimentation, we developed the following process to give the Bucky skeleton, skulls and other bones available from the Anatomical Chart Company just that look. Take a look at the difference in the before and after picture to the right, after "aging", the bone looks very old. The Bucky skeleton as received is stark white, while the newly "distressed" one looks old and creepy. Just what you need to add some realism to your Halloween haunt! We also found that it's not at all hard to do.

Before painting the skeleton temporarily remove the arms, legs and skull (separate the jaw and upper skull), and hang them from a clothes line or similar arraignment as this makes them easier to maneuver during the painting process. Make sure that all nuts, bolts, screws and other hardware are tightened as they will be painted over. If you will be disassembling the skeleton in the future remove or mask any parts you do not wanted painted. You can also remove the red rubber meant to simulate the main arteries in the body. The translucent rubber that simulates the cartilage between the vertebra is difficult to remove, so we just clip off the ends with scissors and paint over the rest.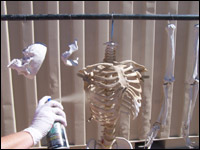 The first step is to spray paint all sections of the skeleton inside and out with one thin coat of Krylon brand "Ultra-Flat Khaki" (#4291) spray paint. While another brand or similar color would probably work just fine, we found this one to work very well. This coat of paint acts as both a primer coat and to change the color to one that looks more like old bone.
One can is usually enough to spray paint one skeleton. Be sure to paint all of the metal hardware as this will help to camouflage them from view. Once all parts of the skeleton have been painted, let the paint dry completely for a day.
Now that the base coat of spray paint has dried, we're going to further enhance the look by using a mixture of water based acrylic craft paints and a foam paint brush to lightly wash the bones of the skeleton. We use "Plaid - Apple Barrel" brand acrylic paints that can be found at just about any craft, art or department store. They are a very inexpensive, but a good craft paint and just what we needed for this job. The following will give you enough paint for two entire Bucky skeletons. Mix the following together in a small sealable container to get the color we call "Exhumed Bones":
1 - two ounce bottle of Burnt Umber (#20512) acrylic paint
1 - two ounce bottle of Country Grey (#20526) acrylic paint
2 - ounces of tap water.
Using a small foam brush, paint a very thin coat over a few of the bones, not the whole thing or the paint will dry and we don't want that yet. Its okay if you don't get every nook and cranny because we want an uneven look. Periodically wet the brush in water and shake out.
Before the paint starts to dry, take a sheet of plain white paper towel, Viva paper towel works best, and pat, not rub, most of the paint off. This will leave what looks like uneven stains. Take care not to let the paint run or you will have drip and run marks. Continue this process until the entire skeleton has been stained. We like to wear latex surgical gloves when painting to keep our hands from getting covered with paint. Even though the bones will look and feel dry in just a few minutes, you should let them dry thoroughly for a day before re-assembling the skeleton.
Once you've put the skeleton back together it should look as though it has been buried for a very long time and much more realistic as a Halloween prop.
Skull Eye Sockets
We think that skulls look a lot scarier when the inside of the facial sockets have been darkened to give the impression that they are open all the way through to the cranium. To do this we use flat black acrylic craft paint and carefully paint the inside of the each eye socket, the nasal passage, the back of the mouth and inside the cranium. You can use a small artist's brush for the part closer to the outside of the skull, and a larger brush for the rest of the inside.