MAIN CONTENTS

Featured Articles
The latest Halloween articles from the staff of Halloween Online.
Halloween Costumes
Halloween Costumes, Halloween Masks and Makeup ideas.
Halloween Decorations
Halloween decorations you can make or buy for the spookiest night.
Halloween Recipes
Our cookbook filled with Halloween recipes, tasty tricks and treats.
Halloween Games
Spooky Halloween games adaptable for both kid's and adults.
Halloween Party
Halloween Party planning and ideas for your festivities.
Halloween Safety
Safety information, tips and suggestions for a safe Halloween.
101 Halloween Tips
That's right, 101 great Halloween tips, ideas and suggestions!
Halloween Props
Spooky Special Effects and Props for your Halloween haunt.
Pumpkin Carving
Pumpkin carving tips for carving your Halloween Jack O' Lanterns.
Movies & Music
Suggestions for the best Halloween music and Halloween movies.
Halloween Crafts
Halloween craft ideas and instructions for lots of Halloween fun.
High-Tech Halloween
Ghostly gadgets for your computer, cell-phone, Palm Pilot and more!
| | | |
| --- | --- | --- |
| --- | WITCHES CAULDRON HALLOWEEN PROP | --- |
This is a great effect for creating a Witches cauldron. Bright green light streams up through the smoke that flows out of the Witches cauldron. With just a large plastic cauldron, submersible flood light with colored light bulb, a water container and some dry-ice you too can chant:
"Bubble, bubble, toil and trouble, fire burn and cauldron bubble"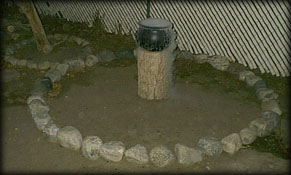 EggLites are great for Haunts!

These small, submersible spotlights are great and literally the size of a chicken egg! Great for any application where moisture resistance or full immersion in water is needed. Halogen MR11's last for about 2000 hours -- three times longer than conventional incandescent light bulbs. Get nearly 20 watts illumination from this 10 watt light. The work wet or dry and come with easily changeable lenses.

The Egglite kit comes completely pre-tested with the Submersible spotlight, Rubber housing & lens, 10 watt MR11 light, Mounting stand, Magnetic base, Lens set (red, gold, green & blue), Plug-in wall adapter, 10 feet of 12 volt cord and complete instructions. UL Listed

X
With an x-acto knife or razor blade, carefully cut a small (3/8"x1/2") square hole in the back of the cauldron near it's center for the Egglite power cord. After assembling the Egglite base unit, set it in the cauldron and push the end of it's plug through the hole you cut. Now pull the cord through and out of the cauldron leaving only a little extra cord to act as slack. If you don't want to cut a hole through the cauldron, you can drape the cord over the edge.
X
Lift the Egglite up and place the container you will be using for the hot water in the cauldron, positioned in it's center. We use a ceramic liner from a Crock Pot for the water container. This makes changing the water easy and you don't have to worry about your cauldron springing a leak. Position the Egglite in the center of the bottom of the water container with the light pointed straight up.
X
To use: Before plugging in the Egglite, fill the water container with very hot water to within two or three inches from the top. Plug in the light and add golf-ball sized chunks of dry ice. You will periodically need to replenish both the hot water and the dry-ice. Always un-plug the light first. The simply lift out the container, dump the water, add hot water and replace the container back in the cauldron. Add your dry-ice and you're going again. Unfortunately, we were not able to get a good picture of the cauldron with fog and the green light, but you can believe us when we say that it looks great and is a really spooky effect.
Submersible lights are available at most hardware stores
16" Plastic Cauldrons are available at most local department stores
CAUTION: Even though these light units are built and UL rated for being submersed in water, there is still a danger of electrocution. Never touch the water or let anyone else touch the water when the light is plugged in! Use caution when handling dry-ice, it can cause severe burns.