| | | |
| --- | --- | --- |
| --- | HALLOWEEN PROPS & SPECIAL FX | --- |
In Hollywood, this task is accomplished with a large fan-like unit that spews out thin filaments of a cobweb-like material over the set.
With the Web Shooter from Terror by Design you can cover a room size area with flame retardant cob webs in just 2 or 3 minutes. Using a common electric hand drill to shoot spider or cob webs as seen in movies and theatrical work. This type of system produces the most realistic web available.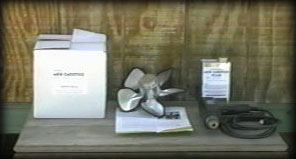 The web shooter includes many improvements over other professional spider web shooters including the first fluid to produce flame retardant webs, professionally machined parts, large capacity, metal construction and blade edges protected by rubber edging to improve safety. These Web Shooters are being used by individual haunt enthusiasts, professional haunted house operators, special effects companies, theater groups, movie studios and major theme parks.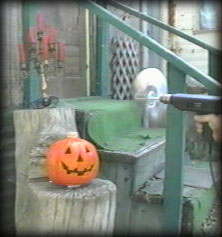 Do not confuse this fluid with others on the market. This fluid was engineered from the beginning to produce webs, and is not a repackaged "off the shelf" product. The only other piece of equipment you need to operate the Web Shooter is a standard electric hand drill that will spin at 1,100 to 1,500 RPM.
When applied in a realistic manner, a pint of fluid will web many room sized areas.
Unlike other manufacturers of web machines who recommend dusting their webs with Fuller's earth for visibility, the Web Shooter fluid is designed to produce an easy to see yet realistic web.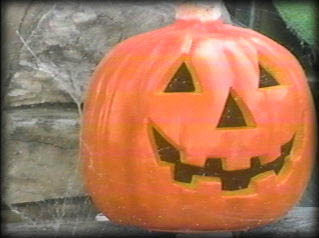 The durability of the web created is very good. Indoors, the webs can last for days or weeks. Outdoors, wind and rain will determine the life of the webs. The webs are designed to degrade with humidity and ultraviolet light. Whether indoors or out, heat, moisture in the air and air currents will be the deciding factors. The webs produced are chemically designed to degrade over days or weeks depending on air conditions.
Clean up of the webs is as easy as simply pulling the webs off by hand or using a vacuum cleaner. The web fluid was developed specifically for making webs and does not use off the shelf adhesives or cements as other fluids do, the "dry tack" of this fluid is very low.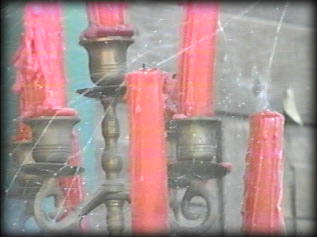 The web fluid uses a nonflammable solvent as a vehicle, if it is spilled or dripped on to a surface the solvent could damage the finish. If you're not sure, we would advise putting down a drop cloth down while shooting webs to catch a spill. Spills are unlikely, but accidents happen.
While most manufacturers of cob web fluids now use a nonflammable solvent, this fluid was the first in the industry to produce a flame retardant finished web. Webs produced by some other fluids being sold are extremely flammable. This device can quickly and easily create very realistic webs. The Web Shooter, instructions and 1 pint of web fluid costs just $79.95 and extra Web Fluid sells for $19.95 per pint or $34.95 per quart.